[tps_header]
A house becomes a home only when one adds a personal touch to the décor. We, at SiddySays, love well done spaces and experimenting with interiors. Our newest love this season is color, printed fun fabric, and creative combinations especially on chairs.
We often pay attention to the large sofas, beds, and dinning sets, but we take chairs in the room for granted. But a single fun well put together chair can add a lot of character to the room. If you place a large one color sofa in your living room and just add a spunky chair to break the monotony in the room, the whole mood of the living area changes.
We went to one of our favorite interiors store White by Mehar to pick out our favorite chairs, which if added to a room can make things exciting without a huge cost.
Here are the 3 Chairs we love
[/tps_header]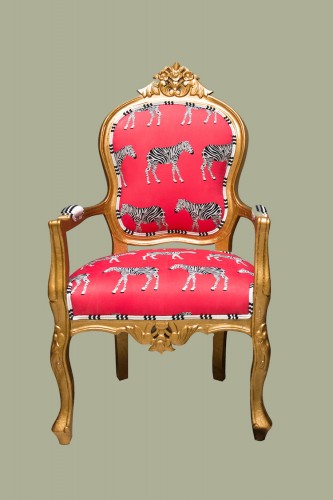 Transitional Chair: As the name suggests, it is a blend of traditional and contemporary styles, midway between old world traditional and the world of chrome and glass contemporary; incorporating lines that are less ornate than traditional designs, but not as severely basic as contemporary lines. This chair is classic, timeless, and clean. We love the fuscia color zebra print that gives the chair a new character which is in contrast with traditional golden carved frame.