Afia Nathaniel is an independent Pakistani filmmaker who writes, produces and edits in addition to being an international award-winning director. Having studied at the Film Division at the Columbia University School of Arts, she set out to make the independent film, Dukhtar  due to be released this month. She has previously worked as the Head of the Creative Department at Publicis after which she left Pakistan to work with YWCA, an international women's NGO in Geneva, Switzerland and later attended the UN Commission on Human Rights.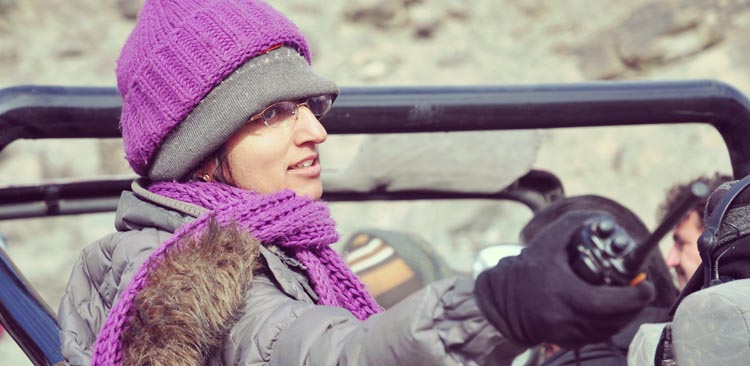 Women with such prowess are hard to come by in Pakistan, which is why, we were very excited to speak to Afia Nathaniel. Below are snippets of our conversation:
What defines you as a person?
A storyteller
Where did you grow up?
Quetta, Lahore and a few air force bases in Pakistan
And, how did that contribute to your career?
A person is defined by the sum total of their experience. An artist even more so. In Lahore, I lived with my grandmothers and did my schooling.
You learn to mature at an early age when you live in an all-women household because you see how vulnerable your position is as a girl, as a woman, in Pakistani society, when there are no men in the household. Because I have experienced first hand the deep emotional bonds between women in a household and the sacrifices they make for their children, I am deeply influenced and connected to those untold stories of women in our societies.
I cherish the idea of having female protagonists in my films. Protagonists who are the life force in our society and culture but often forgotten in the big machine of "entertainment" which is heavily defined by and skewed towards testosterone driven material.
What is your favorite childhood memory?
We used to visit our parents over summer at the airforce bases. It was the most amazing experience of my childhood and teen years. I used to bike around like a tomboy all over the airforce base. There was a great sense of freedom in those summer days. I distinctly remember this moment when I was riding in our car very close to the landing strip and the F-16s would fly right over our heads. It was a Top Gun moment. So unforgettable just like their soundtrack. 🙂
Who was your greatest inspiration as a child?
Writers. Books. Films. Music. There are too many to choose from. However I remember Star Trek being one of the TV shows which really stimulated my imagination as a child.
Was being a director your ultimate career goal?
For me filmmaking is not a career, it's my life.
What is one word that describes you as a person and why?
Intelligent. It must have something to do with my curiosity. I love to know. I live to know.
What are the top things on your bucket list?
Para-gliding, back-pack trip across Latin America, travel to the moon and back.
Who is your favorite director of all time?
Stanley Kubrick.
What is the interesting thing that has happened to you on-set?
A lot of unexpected things happen on the set. We had just lost an entire package of props that we needed to film the chase sequence. That package had gotten lost somewhere in the 35 minutes of commute to the mountains. We had no way of knowing where the package was. I was completely shattered because without those props we could not film a single shot that day. It was a crucial plot point in the film.
In two hours, a car comes up to us and delivers the package to us. Surprised, I looked on. The guys told us that they found the package on the road and thought that it must belong to the filming crew since we were the only people not from the area.
The honesty and the thoughtfulness of the locals really bowled me over. Coming from Lahore, one is not used to such honesty and trust.
Who was the most fun actor you have ever worked with?
On the set, it was easily our child actress, Saleha Aref. She is a very spontaneous and a gifted actress. We were on the road for almost two months and she always came to the set smiling and singing. It was very inspiring to work with her.
And, who was the toughest?
Aha. This question will be answered one day maybe in an autobiography 🙂
What do you love about your job?
Every day I work is a day of discovering and learning something new. That's why I have never thought of my line of work as a job. Never a dull day!
What is the most challenging thing about your job?
When everything goes to hell, it is my job as a director to make things work on the set and off the set. Because what happens off the set affects what happens on the set.
The Toronto Film Festival is one of the most prestigious platforms for filmmakers. What are your thoughts and feelings about showing 'Dukhtar' there?
It still hasn't sunk in that we're having our World Premiere at Toronto on 5th Sept 2014. Today the tickets opened up and our first show got sold out in a matter of few hours! I'm very nervous and excited at the same time.
What does 'Dukhtar' as a film represent to you?
It represents the courage and dignity of a woman.
What does a day on the set look like for you?
A typical day on Dukhtar began at 5:00 a.m. in minus 13 degree celcius. The night before I would have locked my schedule for the day and broken it down to the last detail.
By the time you're ready for the first take, you find out that everything that could possibly go wrong has gone wrong. You're in the middle of a desolate landscape and your cell signals don't work…The car that is supposed to do the chase scene has a broken tyroid, the prop bag which contains all the props for the day has fallen off the back of the Toyota cabin and no one knows where during the journey, an actor is in a bad mood and refuses to come to the set, the location we had agreed upon is suddenly not available, the sun goes behind the clouds and you just lost continuity of your shot from what you shot the previous day, your key crew member falls really sick and a local maulvi decides he will give a fatwa against you unless you leave the location.
Once you have dealt with all these variables you actually shoot the schedule you had decided in a way you had never decided and still complete your filming day by 5:00p.m. by which time the light would have left the landscape and your energy would have left your body and the nerves of steel you had commanded all day suddenly melt and float away…because guess what. You have to prepare yourself for the next day.
Is it tough balancing your personal and professional life?
Extremely. I never thought I would have to travel so much and spend so much time away from my child. That has been very tough.
How do you disconnect from work?
I literally switch off my phone and don't open my email the entire Sunday.
What do you think is the one thing that defines success as a director?
Take a risk to be original and say something new even though all the stories have been told before.
What's the best piece of advice you've gotten?
"You can do this."
If you could change one thing about the way this industry works what would that be?
Respect the women who work in this industry. We're not aliens from another planet – just the 50% of the rest of the population.
Are you working on any new projects?
I'm working on two fun projects. One is a sci-fi thriller and the other is a comedy.
What would be your advice to young people aspiring to join this industry?
Take the time to learn your craft. A diamond doesn't become a diamond overnight. It spent millions and millions of years being coal under intense heat and pressure.