That's right! Our favorite Drama Man is back at PLBW 2015 and looks like he's stronger and more formidable
After our previous series on this Bad Boy of Fashion and him 'sitting out' PFDC Sunsilk FW 2015, we couldn't resist when we heard that Ali Xeeshan will be showcasing his bridal collection 'Toofan' at the PLBW2015. We caught up with him the right before his big day, amongst the thrill and madness of last minute preps and spoke about his comeback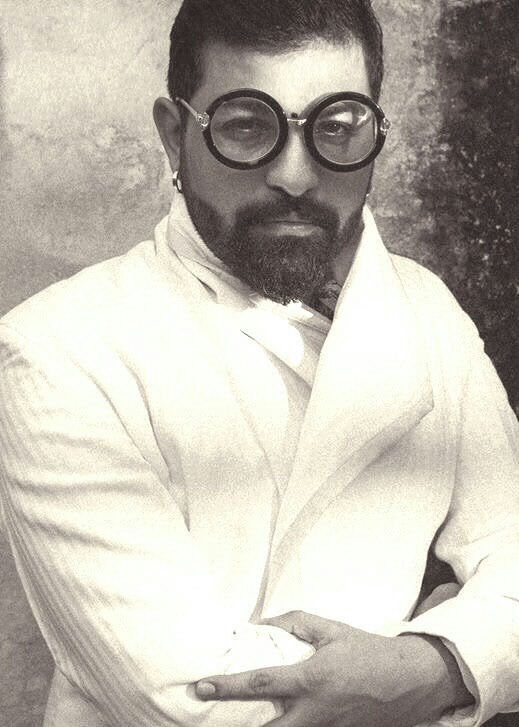 Ali Xeeshan is back, how does it feel after missing the previous Fashion Week?
It feels great, the Council and I have had a long term relationship. My debut was at the first PFDC Fashion week and I have participated in all the seasons except the last one, so I never had a chance to take a break and think. Now I feel I'm back after a lot of introspection and with my A game.
So what has changed since last year to this year in Ali Xeeshan the man and the brand?
They are both stronger and more resilient I would say. As a brand, the break gave me time to rethink my business strategy and work largely on my weaknesses.
How did it feel missing the previous FW?
It felt bad initially, but when I attended the FW as a part of the audience I realized it was a blessing in disguise. I saw the shows and got a better understanding of the hits and misses from my work. So it was a great learning time for me.
When you say you were sitting in the audience and watching other shows, what is the one thing you feel is missing from other collections?
The drama that I create, the fantasy world I take the viewers to. More importantly the fashion forwardness, I feel most of the work is following present trends and not introducing newer ones, which is what we strive to do with every collection.
What do you feel was missing from your previous collections?
Perhaps finesse and attention to detail was not up to the standard that I set myself. Since I was always busy putting up a show I sometimes overlooked things that I now realize weren't there and I have worked on it with this collection.
How is the relationship with the Council?
I belong to the Council. They have always been there for me, even when I was sitting out they were there for me. We grew up together literally and like a family they also discipline me. One can't be right all the time, and they give me my due freedom and support. They accommodate me with backstage help as my shows have more props and antics. Sheru has always accommodated my outrageous choreography ideas; Maheen and Saad are unconditionally supportive.
In your time off what have you been working on?
I opened a store in Karachi last year, this year we are opening Ali Xeeshan theatre studio in Dubai. So this break helped me build the business side of the brand.
Let's talk about your collection. What is 'Toofan'?
Toofan is a more evolved and mature version of Ali Xeeshan's signature style. It's more punchy, powerful and even more loud. The collection caters to a larger age demographic, let's say women from 20's to 40's. Itis like a 9 course meal as it travels from soft hues to more solid and bright colors. It has a range of silhouettes that will suit a wider audience.
What's the aesthetic of the collection?
With Toofan we are trying to break pre conceived notions, hence the name. We are replacing the heavy bridal joras with more fun fabric options; so on the big day the bride can look elegant and beautiful without the weight of the work. Even with the colors we have taken and untraditional route. There is a lot of detail and finesse in this collection. We have used metal embellishments and ground breaking laser cut leather which has a completely different look and feel whilst keeping intact the grandeur and impact that Ali Xeeshan clothes have. The silhouette is very interesting and the devil is in the detail that we have put in this collection.
The collection will make dialogue to you, it has pieces that are like a painting with a background and foreground showing a lot of depth. I feel it is one of my best works till date.
After this break as you call it, what is the one thing that you have learnt, as a man?
More than learning it's come as a strong realization and I urge everyone of my peers to also hear me when I say that we should be more tolerant towards each other. We should support each other's individuality and even if there is a critique it should be respectful and constructive. Pulling each other down won't take the Fashion Industry very far and disrespect for each other's personality and work just makes the fabric of our industry and us as individuals very weak.