Feminism began as a movement for the protection of the rights of women all over the world. It was prevailing in several parts of the world for a long time until it came to the patriarchal society of Pakistan. Every year there is an Aurat March on 8 March that comes up with diverse sentiments. People showcase mixed emotions towards the Aurat March Slogans. Some believe these slogans are rightful yet sarcastic but others think that these are devaluing the role of women in society. Since Aurat March is occurring for a few years, there are some of the best Aurat March slogans that have gained a lot of popularity among the masses negatively and positively. 
Best Aurat March Slogans
Pakistani public and media have got awareness about the rights of women in their social, political, domestic and economic life. They are not subject to any discrimination or subjugation. To create awareness, there is an Aurat March every year and participants come with unique, creative and best Aurat March slogans. So. let's have a look at some of the best ones.
Ujrat, Tahaffuz Or Sakoon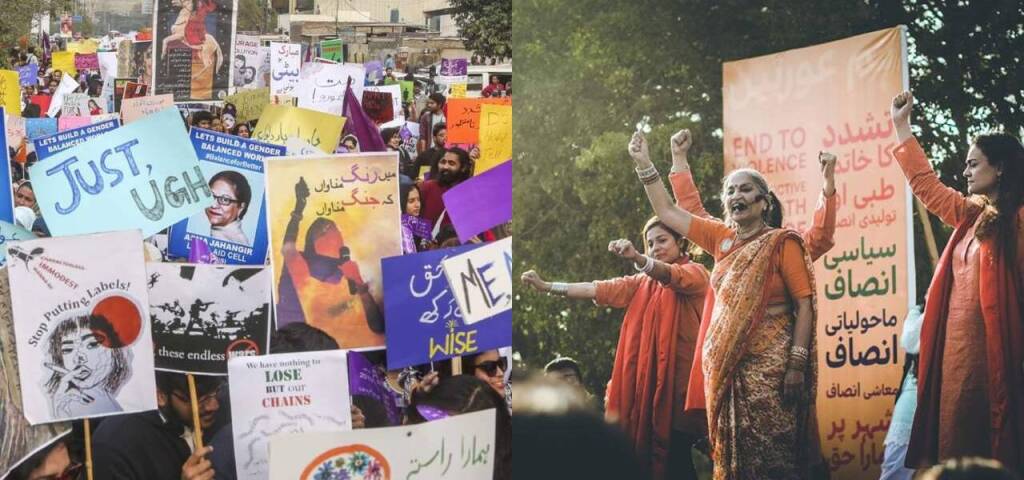 Ujra, Tahaffuz or Sakoon is one of the best Aurat March slogans of 2022 that sums up all the rights of women. It highlights the professional rights of women where they are often low-paid. So, the women need to get equal salaries as their male counterparts. There should be a society where they feel protected and peaceful around men. It is the main motive of the march of 2022 led by Sheema Kermani, a social activist and artist.
Mera Jism Meri Marzi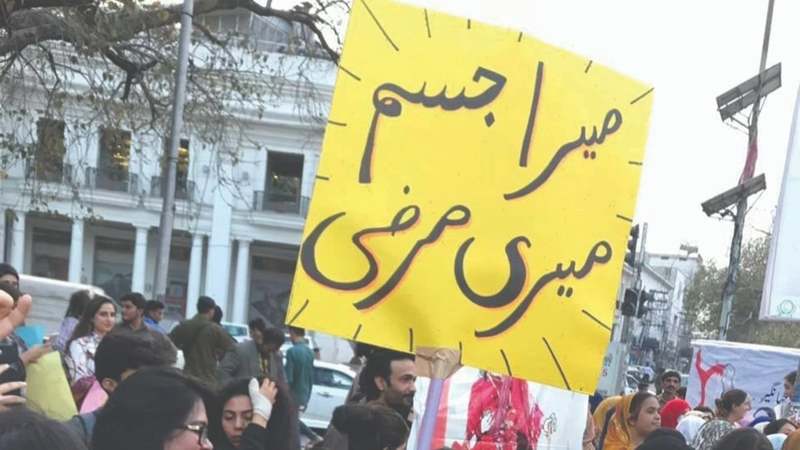 Mera Jism Meri Marzi is an Urdu version of 'My Body My choice'. In the West, it is a slogan for the Abortion Rights of Women. This slogan has become popular among the women of Pakistan and taken up with praise as well as hate. Although it is, basically, for the right of abortion, women are using this slogan for justifying the dress that they choose to cover their bodies. It is also a positive impact against the increasing rape cases. However, the public has criticised the slogan to an extensive level by calling feminists shameless. If taken in its truest terms, the slogan does not deserve such hate.
Apna Khana Khud Garam Kro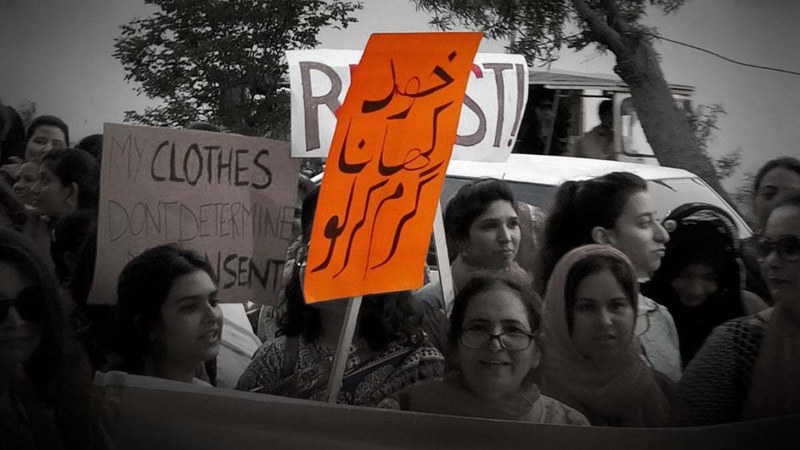 'Apna Khana Khud Garam Kro' is another coin with double sides that has got mixed sentiments. The patriarchal thinking of our society could not take this slogan in a positive way who could not watch men in the kitchen as it hurts their male ego. While others took as a positive message to aware men of helping women in the house chores. 
Patriarchy Ki Vaccine Kab Aye Gi?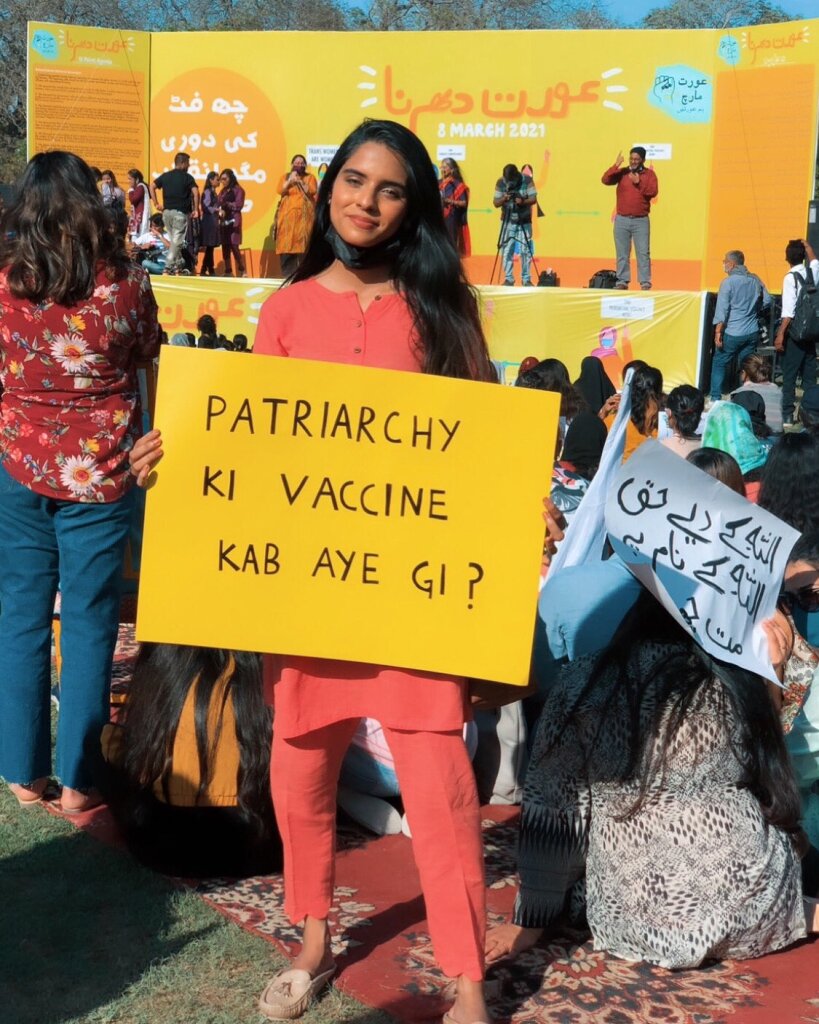 One from some truly Patriarchy frustrated women of our society. In the world of COvid-19 when everyone is getting vaccinated from this virus. Women are requesting a vaccine to make society get rid of patriarchy because it is too lethal for the liberty of females as human beings. Women so want to get rid of patriarchy where everything is male-centric without any consent of females. This slogan is rightful to give women rights of freedom.
Mask Uper Ankhen Neeche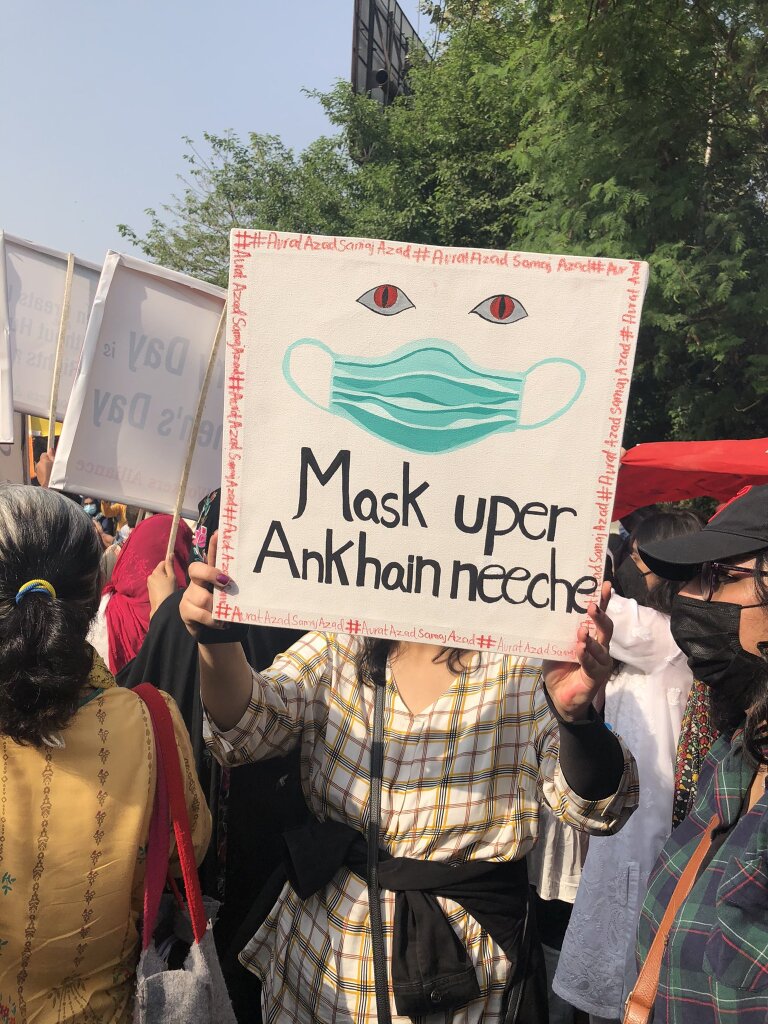 It shows how Covid-19 is impact our ways of thinking and lifestyle. But, the way most men look at females has not changed since then. This is a constant effort from women to make men mend their looks rather than asking women to dress properly. Undoubtedly, men need to take control of their eyes while they are around women to make them feel good.
Mard Bano Khuda Nahi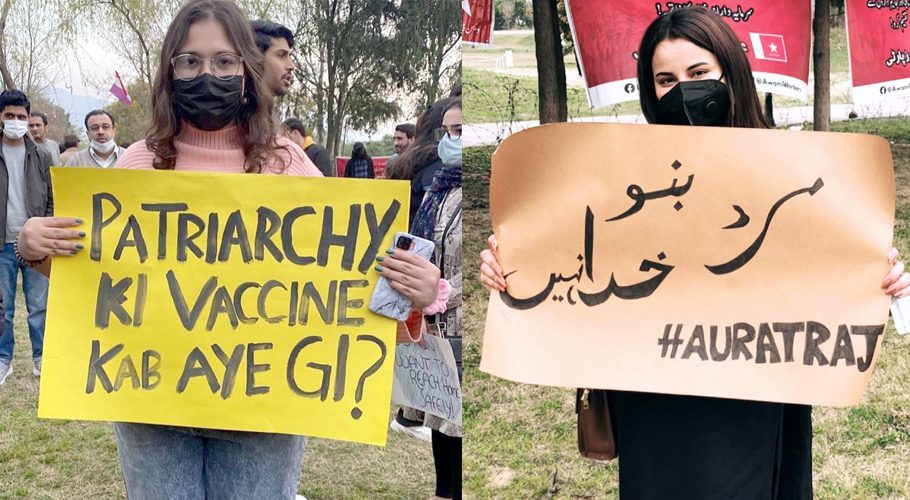 It is a powerful message which urges the men to act like true men rather than the masters with their own rules and regulations. Men need to understand that there is a God up there to whom females are accountable. He is who knows better what's right and what's wrong. So, it is better for them to take an account of their own actions instead of restricting fellow beings.
Consent Ki Tasbeeh Rozana Prhen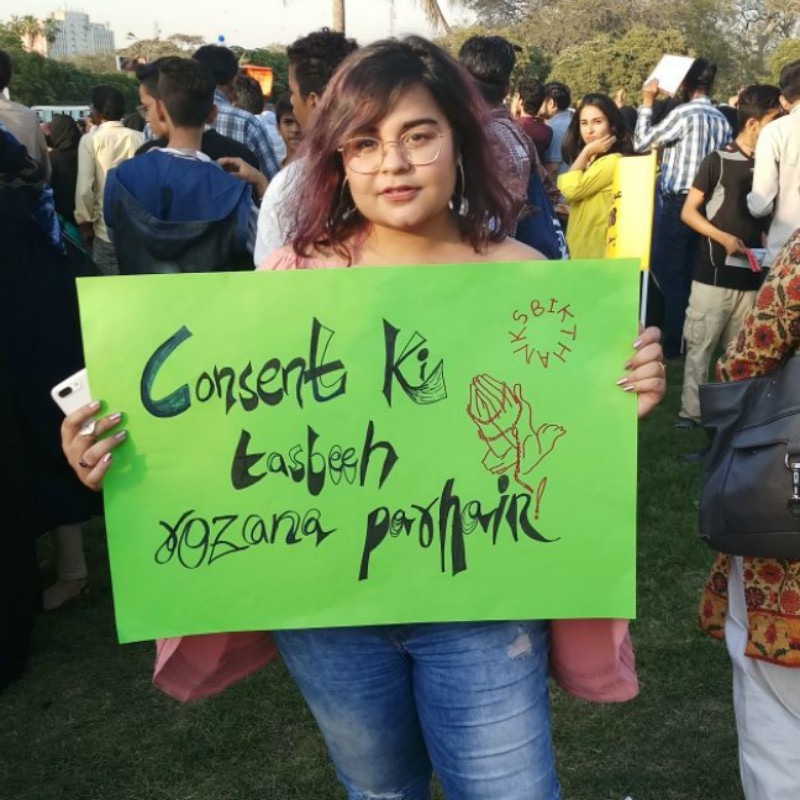 Pakistan is a kind of Patriarchal society where the consent of women means nothing when it comes to issues like relationships, marriage, pregnancy, divorce, rape, abortion, and other issues. Things get imposed on them without their consent. So, people need to give women rights by taking their consent seriously.
These were some of the best Aurat March slogans up to this date that highlight the issues that females have to go through. Some of them are perceived to be obscene and vulgar because of the non-tolerance of patriarchal society towards women speaking for themselves. But, taken in their true context, the slogans have powerful messages that need to be addressed at every cost.