Based on a novel by Josh Malerman, 'BirdBox' is chilling, and rich in suspense. Directed by the accomplished Danish filmmaker Susanne Bier, it is a gripping thriller that has hordes of viewers streaming it at present via Netflix worldwide.
So, starting off with the background, we flashback to a pregnant Malorie (Sandra Bullock) and her sister Jessica (Sarah Paulson) floating through life on a regular day when all hell breaks loose — in the form of this mysterious force that's convincing millions to commit suicide. If you look at this destructive force for even a second, you'll be compelled to kill yourself by any available method – even if it's gory and gruesome.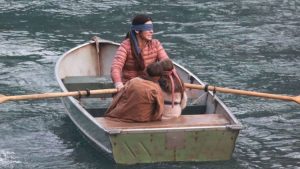 Fast forward to Malorie finding sanctuary in this huge fortress of a house populated by a number of other refugees too. A trip to the supermarket goes harrowingly wrong – resulting in a horror that reminds one of Stephen King.
Anyway, the movie plot proceeds to the viewers following Malorie with two kids, desperately trying to locate the sanctuary, whilst blindfolded. Their only source of guidance is birds (hence, the movie title), as miraculously, birds are not only immune to that suicide-inducing evil force, but can also sense the presence if it's nearby.
As for whether or not, the birds themselves fall prey to the force, or, end up serving as a beacon of guidance for the stranded souls. You'll have to watch the movie yourself. But for us, it was a good spook-fest; Sandra Bullock gave a remarkable performance! A blindfolded guide barking orders to ensure survival- as she embarks on a treacherous journey down a choppy river. Birdbox is definitely a must-watch!