I still shudder softly when I think of depression-because-of-fashion that I went through last year, while on a short holiday in Calgary (Canada). My luggage had loosely comprised of off-shoulder tops and flip-flops, aka, nothing that I could wear to that desi wedding function I was invited to out of nowhere.
A quick trip to the local Calgary market had done nothing to help; the designs were outdated, and the sizes, awkward. I was whimpering about all this to a friend back home in Pakistan when she handed me a lifeline by sending me an Instagram link — 
bridals.pk
 — to a brand that claimed to deliver desi clothes worldwide.
It sounded too good to be true, but desperate as I was, I took no time in ordering a pretty peach ensemble for myself (that I later twirled in around too, when it arrived on time, on the said date; the peachy shade and fittings, absolutely perfect).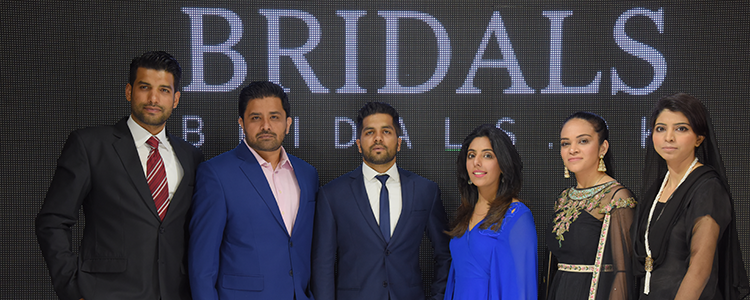 Since then, and understandably so, I've felt truly proud of this brand going places and wowing customers with its efficient delivery of promised goods on time. The biggest (and latest) moment of pride came for this brand (and for me, perhaps, as a loyal customer) during its recent Fashion Show in Beirut, the capital of Lebanon, which showcased the immense talents of our local designer giants such as Nomi Ansari, Tena Durrani, Deepak Perwani, Fahad Hussayn and Nida Azwer. The breathtakingly stunning jewels were presented by Hamna Amir and Shafaq Habib.
This event, a night of glitz, glamour and beautiful outfits, was attended by an excited crowd consisting of who's who of Beirut, including His Excellency Mr. Aftab Ahmad Khokher – Ambassador of Pakistan to Lebanon and his wife Mrs. Afshan Khokher. Former Lebanese president's wife Nayla Moawad and the famous Abdel Aziz sisters were also in attendance, all wearing gorgeous outfits and glittering jewels by Pakistani designers.
The show started with Nomi Ansari's "A Night in Paradise," which was a stunning collection of beautiful cuts and vibrant colours, followed by Tena Durrani, who showcased her latest Luxury Pret and Bridals. Her clothes were sparkling pieces that spoke volumes about her own talent and Pakistan's unmatched craftsmanship. Deepak Perwani followed up next with his signature style: a perfect blend of modern fashion infused with tradition that earned him a richly deserving applause. Next came Fahad Hussayn with his hugely creative "Dara Shikoh Aur Sunehri Churail" collection – it left the audience stunned with his mind blowing technique of bringing together colors, vintage prints and magnificent detailing all in a splendid manner. What really stood out and worked remarkably well for F. Hussayn was the Alta Moda Sunehri Churail – the audience was clapping, cameras were flashing and Time witnessed Pakistani talent truly leaving its mark on the Beirut crowd. This glittering night came to its end with a final showcasing of the renowned Nida Azwer with her exciting range of Western couture pieces. The crowd seemed to be enchanted by her glamorous outfits that shimmered prettily and were stitched with thoughtful care and precision.
Thus, the night came to an end but the town kept buzzing with the talk of Pakistan's immense talent and excellent craftsmanship for many more days. Bridals.pk isn't only a trustworthy forum that delivers what it promises, but has also helped our designers hugely in promoting and showcasing their labour of love beyond the Pakistani borders. This shall help our local industry to expand and for people living in different parts of the world, whose hearts our designers have stolen with their glittering gowns, isn't it a dream come true to (finally!) be able to order, wear and flaunt these pretty dresses to your next desi wedding function?
I can already feel a new hashtag making rounds: #ThankYouBridalsPK. Much love from #TeamSiddySays, may you continue to grow and win hearts over.
Written by Nida Haqqi