Dobara's Episode 10 had some interesting developments that had us invested in the serial further. We were looking forward to find out Mehrunnisa's next move after the proposals. Episode 11 mainly focused on Mehrunnisa's thought process after she received proposals by Mahir and Ibtisam while also letting us know how different the two men were.
Here's how Mahir proposed to Mehrunissa in Dobara Ep 10.
PHOPO CONTINUES TO CONSPIRE AGAINST MEHRUNISSA
Durdana Apa, played by Sakina Samo, is an interesting character in the serial. She had called Ibtisam from Canada to get married to Mehrunnisa even though she knows that he has a lot of health issues. She plans everything out to make things work in her favor since she wants that all of Mehrunnisa's property stays with her. Hence, she keeps an eye on Mehrunnisa's activities, especially after she befriends Mahir. She finds out about Mehrunnisa's visits to the hospital to see Mahir and she tells Affan about it since she knows Affan is against Mahir and would make it an issue.
AFFAN QUESTIONS HIS MOTHER ABOUT HER MEETINGS WITH MAHIR
As a result of Phuppo's talk, Affan gets angry and speaks very rudely to her mother. He questions Mehrunnisa about her meetings with Mahir and misbehaves a lot. Mehrunnisa also shares about her wish to remarry to which Affan get angrier. Ibtisam intervenes in favor of Mehrunnisa after Phuppo sends him to impress her.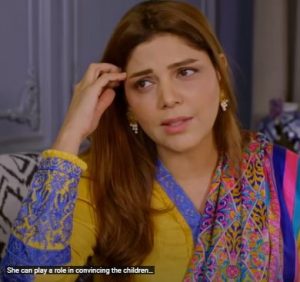 MEHRUNISSA IS CONSIDERING BOTH THE PROPOSALS
Meanwhile we also saw Mehrunnisa discuss the two proposals with her friend Nayyara who was a voice of reason for her. She made her realise that it was her right to think about her life and that if she wanted she could remarry without thinking about what society would say. However, Mehrunnisa seemed a bit confused about deciding between the two men. While she thought Mahir was using her as a shortcut and ladder for a better life, Ibtisam was someone society would more easily accept. However, she was still unable to decide between the two.
MAHIR IS BACK HOME & AWAITS MEHRUNISSA'S RESPONSE
While both Mahir and Ibtisam want her in their life, Mahir is more sincere to her than Ibtisam. Although Mahir was led by his financial troubles to take this decision to propose Mehrunnisa, he is not someone who would take advantage of her. He always tells off his friend whenever he suggests of using Mehrunnisa for financial gain. On the other hand, Ibtisam is fully led by her sister-in-law's greed for property. Mahir is hence hopeful that one day or the other she will come back and say yes to him. Bilal Abbas depicts all the troubles of Mahir with his perfect expressions and makes it a treat to see him on screen. The talented actor is nailing the character he is playing with his powerful acting so much that even in the limited screen time he got in the episode, he made his presence felt.
Now that Merhunnisa has made up her mind to get married, it will be interesting to find out whom she will choose and why. Will she accept Ibtisam's proposal and surrender to society's pressure, or will she choose an understanding person like Mahir to prevent herself from being in a relationship with a potential dominating man in her life?To find out, keep watching Dobara on Wednesdays at 8 pm on Hum TV.