Dobara ep 5 was a roller coaster ride that was reeling with emotions and a great watch over all. And we love how the writer's have the kept the pace, it's slowly building up and will soon lead to Mahir and Mehrunissa coming together and highlight a taboo topic as realistically as possible.
Other than what happened in Dobara ep 5, Mahir drops by at Mehrunissa's house. Her family, particularly, her sister-in-law objects to their friendship and forbids her to meet Mahir.
Also, you can catch up on Dobara's ep 4 here
MAHIR IS HELPLESS WITH NOWHERE TO GO

Mahir is devastated after Narmeen refuses to answer his calls. His stepmother doesn't let him in in either.
MEHRUNISSA HELPS MAHIR

Mehrunnisa finds Mahir sleeping in the park. He tells her about what has happened. She takes him out for lunch where her son-in-law Zameer spots her.
MAHIR DECIDES TO STAY WITH A FRIEND

Mehrunnisa drops Mahir to his friend's place where he plans to stay while figuring things out. He calls his father and tells him he wants to come home but he refuses. He says this is punishment for his wrongdoings.
AFFAN & SEHAR ARE SET TO BE ENGAGED

Mehrunnisa meets Seher's family to make things official. Mehrunnisa wants things to be done simply while Seher and her mother wants to make a big deal out of it.
MAHIR DROPS BY AT MEHRUNISSA'S HOUSE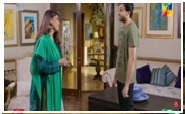 Mahir comes to meet Mehrunnisa at her palatial house which irks her sister-in-law. She objects to her friendship with Mahir.
SEHAR CONTINUES TO BE A BRAT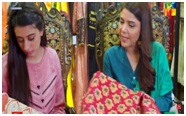 While out shopping with Mehrunnisa, Minal and her aunt, Seher comments on Mehrunnisa's choice of clothes. She says they will be too bright for her but Mehrunnisa tells her she shouldn't worry about it.
OUR VERDICT
The show is shaping up to be a great entertainer. The actors are amazing but Bilal Abbas Khan's Mahir is pitiable yet lovable at the same time. On paper he is unlikeable but Bilal Abbas Khan makes it work. Sabeena Abbas's Seher is an entitled, lazy, spoiled brat. She says the most inappropriate things without any care for what people will think, Mehrunnisa to be specific.
Let's see what happens next. To find out, keep watching Dobara on Wednesdays at 8 pm on Hum Tv.