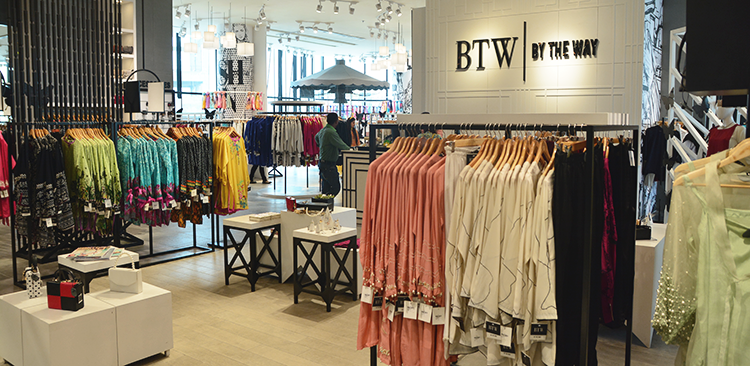 Never ever disappoints, like never. With an assortment this big one is bound to find something or the other at Pakistan's new fav brand BTW.
What started off as a quirky, fun store has fast grown into a chain of super stocked, stylish stores making the brand formidable. And when we visited their new store at Packages Mall, we were even happier to see how well stocked and well laid out the mega store is.
Their fun new collaboration with the Karachi based jewelry brand Esfir is also very promising. Even though the brand carried a range of accessories to begin with, the new range of jewelry is for those who want a more dressed up look.
Since its the festive season, and the choice at BTW Pakistan is too great, we put together some evening formal looks for you to make your decision easy. (Oh and excuse the hat in the pics, we couldn't find a wig for the mannequin!!)
White is always a favorite, and this one is as elegant as they come. the colorful embroidery makes it great occasion wear whether its an Iftar or Eid itself. Go for a bit of a contrast with the arm candy as we chose this mini black bag with a pearl top handle. The Esfir bird earrings also compliment the embroidery on the outfit, making it a classy look.