If you thought last year was a hit, you have no idea what a treat you are in for this season with Elan Lawn. Just two days to go, women are already cramming outside stores for pre booking and cutting deals with shop keepers and stockists to pay extra to book their favorite prints!
And while everyone is hovering over whatever catalogue they find, SiddySays sat comfortably at Elan headquarters today to have a preview by non other than the super talented Salman Naseer, Design Head at Elan. We went through all 15 prints (two colors each) of this year's collection as Salman explained every detail of every print. And trust me if I start writing about everything I saw, this post will become a mini thesis in print making (its absolutely genius)
We know we don't need to give you a reason to buy Elan Lawn, you already plan on doing that for sure, but we need to talk about what we saw today and why it is that Elan Lawn needs to be appreciated.
The collection is retro, artsy, bold contemporary yet well fused with ethnicity. The compositions are strong and conceptualized in such detail that sometimes you might feel you are looking at a scene rather than just fabric (with foreground, mid ground, background kind of painting like details)
Every year the design team raises the bar, while it was the print colors rendering achieved to perfection last year, this year they have ventured into something as spectacular as 8 color embroidery on the lawn joras! Yes 8 colors means the embroidery doesn't look like a separate stark piece of thread work but blends into the print making the piece look so effortless and rich you will look twice to believe its a lawn suit! Owing to this effort and hard work, the prints and embroideries look so well gelled together that it makes the whole outfit stand apart from whatever you may have seen all your lawn wearing life!
Apart from this tech feat that Elan has achieved we will see embroideries such as French knots, cross stitch and chain embroideries on various outfits, things that most people don't attempt in Couture is being achieved in Lawn!
This year Yellow is what dominates the collection. Almost each design has either one option in yellow, or the color is present in some form or the other. Now how's that special? What if we tell you every shade of yellow in the collection is different. We kid you not!
The color gradient on some suits is beyond amazing, as said before, it gives the clothes the feel of being  hand painted rather than printed. The front and back panels like last year are inter changeable and the embroideries can be used anywhere you would wish so no two people necessarily have to wear the same print in an identical way!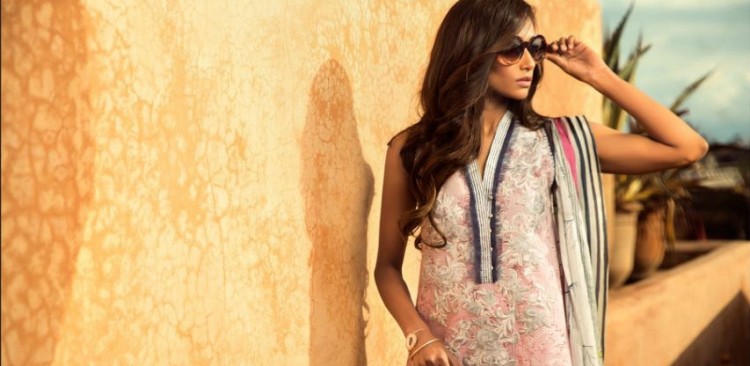 Almost all leading international trends have been incorporated in the prints effortlessly. Linear lines, chevrons, animal prints make the pieces more fun without being in your face. Each design has layers upon layers of elements that give depth to the end product without making it look OTT (one of the prints has up to 300 elements being used together….its really a work of genius)
All dupattas in the collection are silk, and every suit has a trouser that is either paste printed or patterned, moving away from the heavily printed trousers last year!
The color pallet is also very interesting. A lot of combinations have never been seen before. We particularly love Oliveraie print with peach and silver grey colors blended in with perfection!
The collection is a contemporary take of period classism with sketchy lines and loud splashes of color that makes every print come to life. The collection is daring to say the least, but its complete in its perfection.
One thing is for sure, anyone who says 'oh its just a lawn suit' deserves to be penalized since this isn't just a lawn suit, it is the passion of the most talented design team in Pakistan!
Elan for the win one more time!