[tps_header]The House of Kamiar Rokni is an established name in fashion and has been known for it's eye for the new. While Kami, the Creative Director at the House of Kamiar Rokni, has directed many 'rising designers' to get them fashion week ready, recently, the House showed their personal commitment to the next generation of the fashion industry as they undertook a grand new editorial shoot featuring three fresh new faces. The shoot showcased three new models; Farwa, Fatima and Saba.
In an industry where pretty much every model is a 'super' model- fresh faces are hard to find. Internationally, fashion houses invest time in finding 'the next big thing' in addition to working with supermodels. Unfortunately, the trend doesn't simmer down to the local market, where networks and cliques deem some strong and others entirely 'out'. While major design houses, opt mostly for the established models, the rest of the labels are lead to believe that they are 'stuck' with the new. We spoke to Kamiar Rokni and Rehan Bashir about their thoughts on using fresh talent in their latest shoot.
About the shoot, Kamiar Rokni said, "The shoot itself showcases various different couture pieces and some classic pieces that capture the essence of House of Kamiar Rokni. They are clothes that tell a story and are glamorous in their own way. This time with the shoot we wanted to experiment a little and so you can see that we have played around with the lights and used poses that are not too contrived and standard."
When asked about using new talent in this shoot and how it was discovered, Rehan Bashir said, "Farwa was someone we discovered at PLBW and I personally trained her to walk and groomed her to harness her potential. She is 5 foot 9 inches tall and is doing her ACCA. She is very good looking, good height and takes direction very well! Saba Sikander we know of since we worked with her in 2011 for our 'Modernist' collection. Frieha Altaf had just introduced a number of new girls and she was one of them. Fatima; she started working with IFAP and was signed up with Ather Shahzad."
According to Rehan, " You can't just say to a model that 'You are too dark and no one wants to work with you'. What makes no sense is how people in Pakistan are obsessed with using women of fair skin as models. Personally, we like working with unique faces who don't necessarily have fair skin, or your run-of-the-mill kind of look that people in this industry are accustomed to. There are so many five foot nothings walking on the ramp which makes no sense to me. Especially when you have talented, new faces with the right height, looks, posture and everything else."
'There are so many five foot nothings walking on the ramp which makes no sense to me. Especially when you have talented, new faces with the right height, looks, posture and everything else'
Kami feels that There is lots of potential in the industry at this time for modelling and so there needs to be people who are willing to train these girls and give them the right kind of exposure. It takes too long for models to get noticed. People like leading designers, makeup artists, photographers and the likes must come together and become mentors for the fresh talents. It shouldn't take a model this long to get there!
Rehan added an interesting flavour to the conversation by revealing how the poses were conceived, "In this shoot all the poses that the models are mimicking are my own and they did a marvellous job of it. We just have to understand that the only thing they really need is guidance. They are eager to learn and to work with good designers."
About challenges in the industry, Saba agrees that challenges will exist in everything you do. However, according to her, "It depends on your talent and what is inside you. How you enhance your abilities and what is your attitude towards your career, is what matters." Meanwhile, Fatima said, "It is all about how you manage yourself in the media and challenges are everywhere not just in fashion."
Farwa added, "It is not that difficult if you do the right kind of work with the right kind of people. I've been lucky that I made it here in such a short span of time. In September 2013 I went to Khawar Riaz for my portfolio and from there he sent me to PFDC L'Oreal Paris Bridal Week auditions where I met Kami and Rehan. It was my first ever fashion show and first ever designer shoot with the duo."[/tps_header]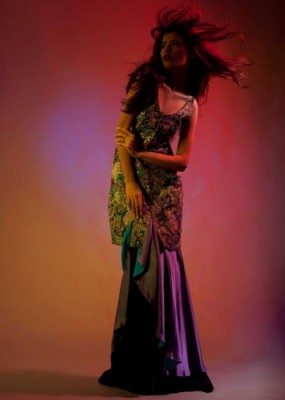 Saba has worked for many projects in the past and is primarily a runway model walking for some of the biggest shows in Pakistan such as fashion showcases by PFDC, FP, BCW and the likes. She has been a model for four years and has done numerous shoots and modelled for the Karachi-based brand MANTRA and internationally did a shoot with Altaf Manishia. She hopes to become the top model for Pakistan.
According to Saba, on working with The House of Kamiar Rokni, "Personally speaking, Kami is amazing and Rehan is so cute! I just loved working with both of them. They are cooperative especially for the new talent. You always remember those people who have worked with you nicely and Kami and Rehan are both in that category." Further, speaking about the shoot itself, she said, "During the shoot I was relaxed. The whole thing was right on time and everything went smoothly."