When you are just under one year old as a stylist, and already working with some of the best celebrities in the industry, it can get overwhelming when one of the leading retail high street brands of the country (Ethnic By Outfitters) want you on board as a fashion shoot stylist for their Valentines Campaign 'Fall Into You'. FALL INTO YOU
For SiddySays Styles first ever fashion shoot and having a team like Ashna Khan (behind the lens) and Qasim Liaqat (hair and makeup), it was very hard to go wrong, which is why the end result turned out great. Marvi Shabbir, the model of the campaign was God sent, as she looked perfect in every frame and she knew exactly what was required from her. FALL INTO YOU
The theme gave a powerful message. It was about a woman who is empowered and knows that she needs to only depend on herself. She is a queen in her own right, and emotions don't define her, yet she celebrates the beauty of love, of emotions and keeps her grace, effortlessly.
I chose three make up and hair looks for the 8 outfits being shot in the campaign. The first look was sleek back hair look with light eyes and tinted lips in hues of nude ranging to raspberry. The look morphed into a glamor power look with side curls and red glitter lips which almost screamed old school Hollywood glamor. As deemed fit to the theme, the third look was literally crowning of the queen, as Marvi wore a crown over strongly contoured face.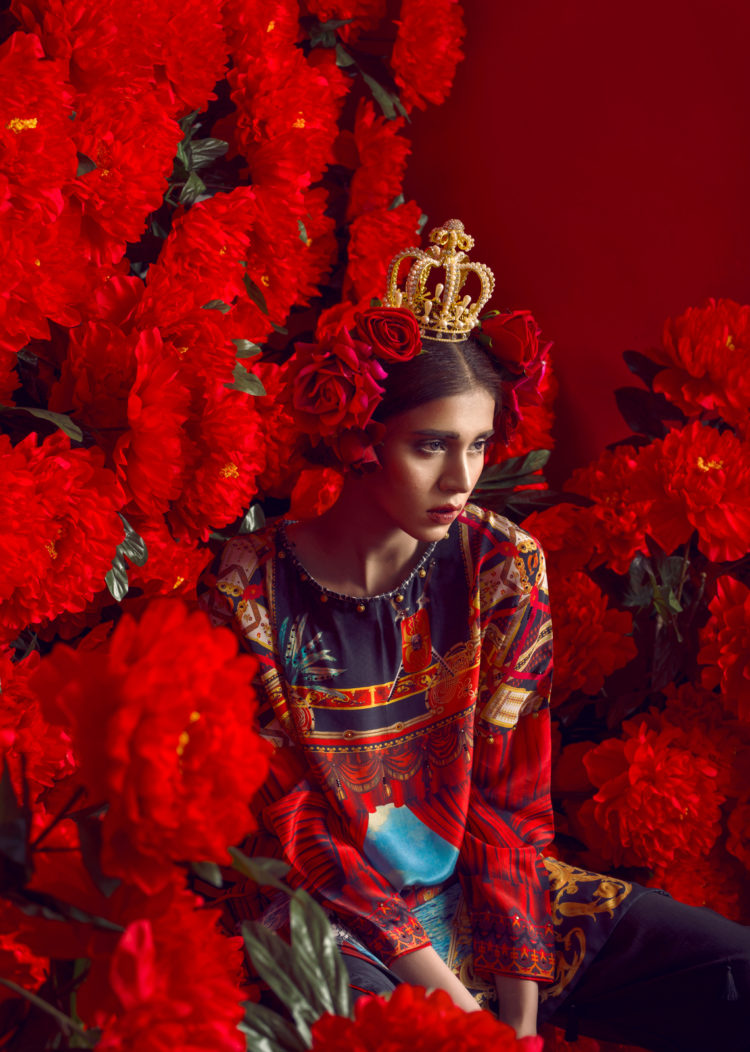 The jewelry was provided by Zarq (Zarq_Jewelry) and Fanas by Sana Farooq. Here is the entire shoot from Ethnic by Outfitters Valentines Day Campaign.