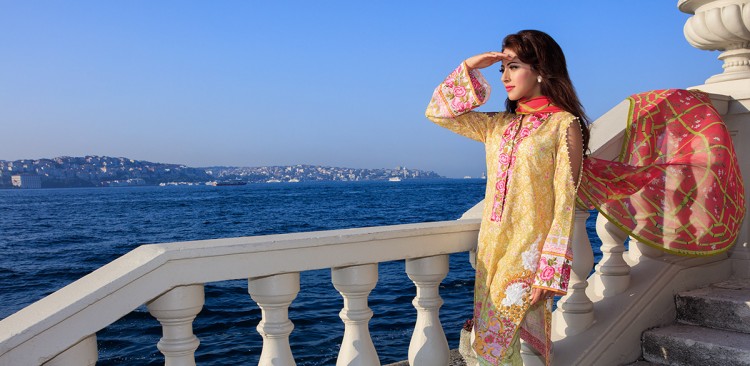 Lakhany Silk Mills (LSM Fabrics) has yet again collaborated with renowned designer Farah Talib Aziz to present their new collection – A Mediterranean Dream.
The designer commented saying "A Mediterranean Dream' is an ode to women of the region: reflective of the cerulean blue seas, the soft hues of the mesmerizing architecture of Mediterranean and the deep attraction of the Oleander flower. We are looking forward to the launch nationwide in time for the festive season of Eid-al-Adha."
The inspiration stems from the vivaciousness of Mediterranean women who display a European charm coupled with beauty of the Ottoman Empire. Ainy Jaffri is the face for this collaboration showcasing a mix of pastels and vibrant hues with vintage florals.
Speaking on the collaboration, CEO Lakhany Silk Mills, said: "We are pleased to continue our association with the prestigious design house of Farah Talib Aziz this summer. Our mid-summer collection will hit the stores nationwide on the 5th of September and will be available for delivery worldwide via www.sticherry.com."
Here's a brief look at the upcoming collection, exclusively for SiddySays. It will definitely be adding some subtle vibrance to our wardrobes in the upcoming weeks with the colours and prints!