A swelling army of fashion followers, corporate clients and friends of PIA all waited with abated breaths to find out which of the sixteen eminent designers made the final cut to carry the mantle forward and receive the honor of sewing up globe-trotting elegance for the national flag carrier airline, Pakistan International Airlines (PIA).
And surprise – surprise. The winner was not just one, but four designers!
Wait…what just happened?!
PIA, keeping up with its long sartorial legacy and commitment to emulate style, hosted a one of a kind fashion-face-off among contemporary designers to present their versions of PIA-crew uniforms. And while the designers were given no budget break down, or guidelines to follow; they conjured up their creations with only one thing in mind: Portraying Pakistan.
Looking back at PIA's long association with national and international designers, its uniform has always represented a certain chic aesthetic. From Laila Shahzada, Chausie Fountainer, Pakistani dilettante Feroze Cowasji, to renowned French fashion designer Pierre Cardin, Sir Hardy Amies and Nahid Azfar all have tested faith in their designer creed to sew up luxury in their very warp and weft.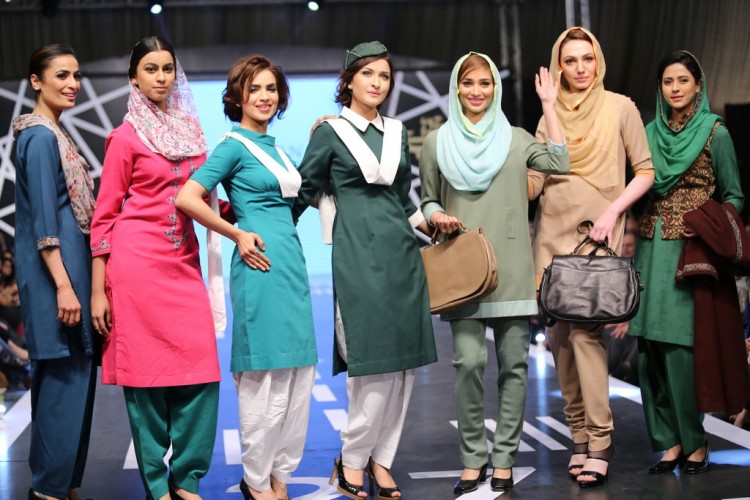 So now, when the time demanded a desperately needed revamp, our current-day designers were ready to deliver. They portrayed minimalistic constructions while using fine fabric and a color palette of mostly navy blues, lush greens, subtle yellows, jet blacks with playful tinges of magenta in their uniforms. While some used printed PIA logo on the tunics, others proved their fine craftsmanship by using embroidery and sparkly, gold PIA broaches on caps to complete their look.
Of the options on the ramp,  Khaadi and Ismail Farid's version of uniform was my personal favourite; which not only did justice to their design philosophy but were also aesthetically pleasing. Using a bright color combination, Khaadi played a well-thought out game of tones. It managed to channel its bohemian glamour on to its intricately vibrant embroidered jackets and knee-length tunics paired with straight cigarette pants, 70's flared platoons and floral printed scarves.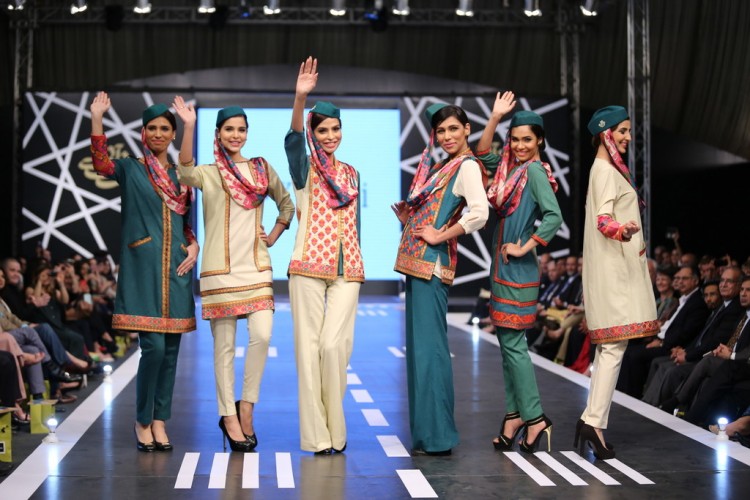 Similarly, everything about Ismail Farid's slim-fit suit and double breasted trench in royal blue and black was on point. His sleek and smart dress code for men,  delivered on what one would imagine cabin crew chic to be.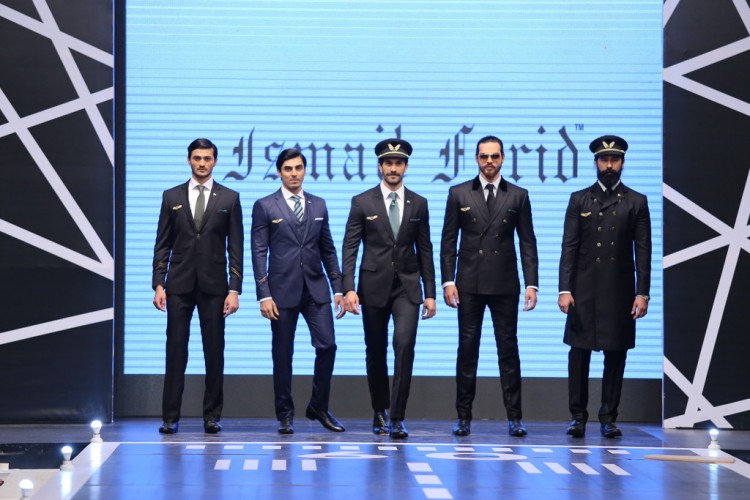 The judges however seemed to be on a different page.  The jury panel comprised of some leading names such as Zeba Bakhtiar, Tariq Amin, Shakeel Saigol Naz Mansha, Seema Iftekhar, Rabya Javeri,  and Indus Valley's dean Shahnaz Ismail, tabulated results on basis of the most striking accessory, and strongest menswear and womenswear, the end result for me neither progressed much from the uniform we've seen since the past 50 years nor manage to bring a drastic change I hoped for.
Sania Maskatiya (Caps):
Sania showcased graphically pattered and vibrant colored scarves that were paired with her signature-textured straight cut trousers. Her jackets were decorated with miniature sketched birds and building outlines on the edges, which were distinguishable and artistic , but weren't unfortunately selected for the final look.
Yasmin Shaikh (coats):
Yasmin presented a collection of western-tailored coats on top of eastern outfits. Her ash-gray cape and double breasted trench coat with witty rear pockets on front woo-ed the judges over. She paired her look with gloves and messenger handbags of the same material that came across generally as a cohesive collection. While the collection may not have been the most memorable of the evening, clearly the coats caught the jury's fancy.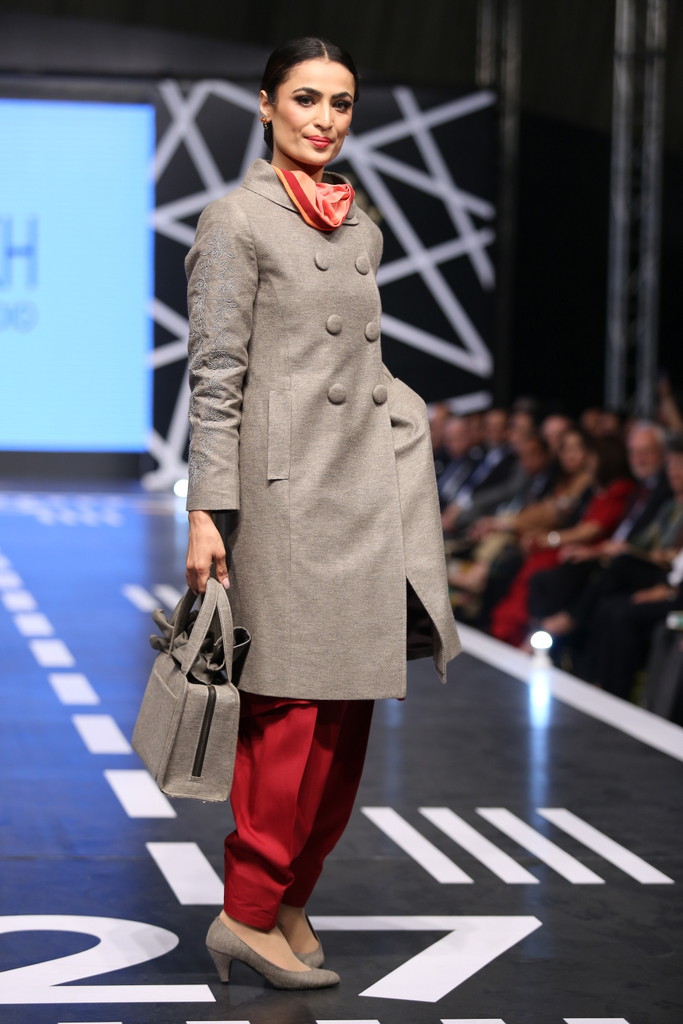 Nomi Ansari (womenswear):
Unlike his usual theatrics, Nomi decided to ditch his kaleidoscopic sorbet shades for a showcase in three solid demure colors.  Nomi kept simplicity as the key and endeavored to design something that ensured wearability and ease, but seemed to lack the imagination that is hallmark of Nomi Ansari designs. His uniforms significantly missed the unequivocal rhapsody of colours and patterns that I've  grown to be so fond of.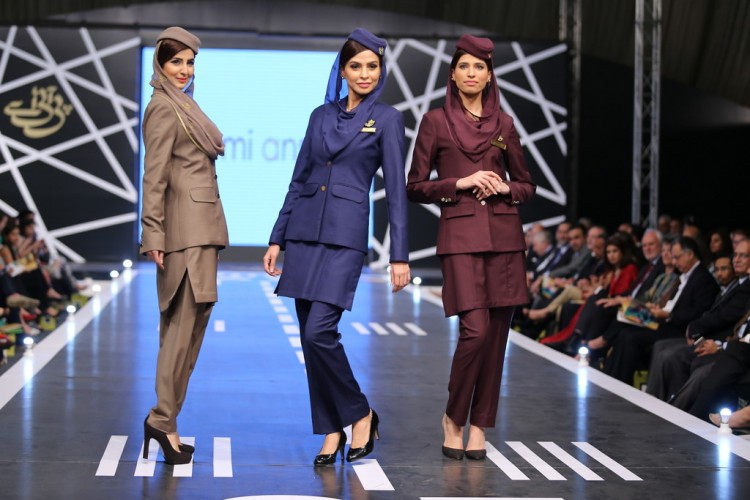 Republic by Omer Farooq(menswear):
Keeping in mind what he's best at, Omer's take on PIA pilot and steward uniform was a lot like grunge meets fine tailoring. His front pleat trousers, double breasted jacket with gold buttons and navy-blue hued waistcoat paired with crisp, cottoned white button down all encapsulated premium contemporary menswear, but did not significantly outshine Ismail Farid's more dapper take on the uniforms.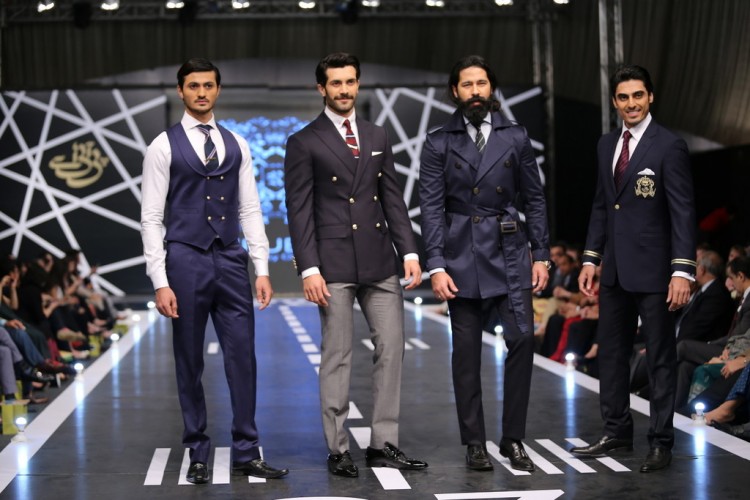 After a mildly turbulent flight, PIA has finally decided to take up a road to betterment. With Style PIA, they are clearly taking the task of revamping their image seriously and while the pomp and show was all there, we do hope to see some positive changes in passenger experience also.
Nostalgia had run high that evening, with PIA's logo set against parrot green background, a mock plane entrance lit by white spotlights and a runway that was designed to resemble that of an airplane's; I couldn't help but wish that the change we see in the coming days would be more than just cosmetic.
—
Naveen Qazi is a journalism student and a blogger at 'Cashing on Couture' in addition to being Team SiddySays' go to for all things Karachi!