The previous episode of Hum Kahan Kay Sachay Thay has already had everyone hooked with the suspense about Mashal's death. Mehreen is under arrest while no one visited to pat her back in such a critical situation. Aswad is already biased and thinks that Mehreen has murdered Mashal. However, his mother is clarifying that reality is different. Well, he is not willing to accept her stance and continuing to stick with the idea that he is not going to marry a murderer anymore. Here is what happened in today's episode!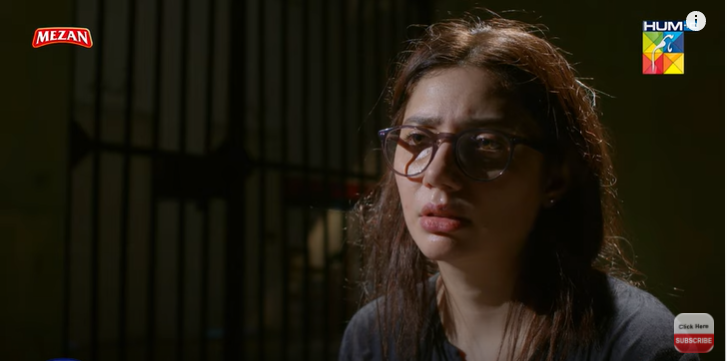 Police Inspector Has Got a Soft Heart for Mehreen!
As per the previous episode, the police inspector treated Mehreen rudely and considered her guilty of the murder. However, the new episode has revealed a softer face of the inspector for Mehreen and it seems he knows that she hasn't murdered Mashal. At a point, when Mehreen had trouble with breathing, the inspector was the one to hand over the inhaler to her. There is still a lot to surface until the suspense cloud continues to cover up things.
Mehreen's Mother is Upset!
Rabia is upset to imagine how hard it would be for her daughter to stay behind the bars. She requests Saleha (Aswad's mother) to at least visit Mehreen and do something to save her as she is innocent. Saleha tells her that Aswad has changed a lot after Mashal's death and he is acting strange in terms of showing concern for Mehreen. Rabia also pleaded that someone should talk to a lawyer and let Mehreen free but Saleha seems helpless.
Aswad Reacts to His Mother's Request!
It was expected and happening the same way that Aswad is reacting oddly for saving Mehreen. Saleha requests him to save Mehreen but he says that if she is innocent, Mehreen will be saved. Let the police complete the investigation. Saleha says that even if someone is a criminal, their family members go to meet them too. There is always someone who advocates them and you are going to be Mehreen's husband. Aswad clarifies that he is no more going to marry Mehreen. His mother agrees to it, but requests to save her at least. Aswad reiterates whatever Mashal used to tell him about Mehreen and says that her death proves that whatever she said was right about her.
Saffan is There to Meet Mehreen!
So, Saffan is once again, someone to be at first in visiting Mehreen. She was surprised yet embarrassed to see Saffan and managed to speak up that she didn't murder Mashal. He made her feel comfortable and said that he is not here to know this but to ask what he can do for her. It was an emotional moment for Mehreen and she finds a supportive shoulder in Saffan to cry on. Mehreen thanks him for making efforts for her bail and Saffan says that whatever relationship we have, it is to save you from going to jail. Saffan was about to leave when Aswad and his mother reached to meet Mehreen for the first time.
Aswad is Skeptical to see Saffan Visiting Mehreen!
Aswad was already doubtful about Mehreen in all aspects and now when he reached along with his mother to see Mehreen, Saffan's presence left him skeptical. The emotional interaction between Mehreen and Saleha couldn't melt Aswad's heart. Well, respecting his mother for everything, he is saving Mehreen and that's all he could do for her. Moreover, Aswad and Saleha are in great pressure from Mashal's parents to punish Mehreen for the murder at any cost.
Mehreen is Having Nostalgia of Her Childhood!
She is at such a place where one could only have a flashback to the unwanted memories of life. So, Mehreen is having a tough time while going through nostalgic phases about her disturbed childhood when she was left alone by her parents. She also had an illusion of seeing Mashal in the prison. There is a lot more to come and new chapters will open up new angles to the story.
Watch episode 10 of Hum Kahan Kay Sachay Thay now!