Valima Venue
One of the many happenings of the second half of 2021, was the nikkah ceremony of the grandson of the former prime minister Nawaz Sharif, Junaid Safdar. The bride and groom, Junaid Safdar and Ayesha Saif Khan tied the knot in an intimate nikkah ceremony which was held in London in August 2021. The ceremony was held in The Lanesborough, a very famous 5-star hotel on the Hyde Park Corner in Knightsbridge. The ceremony received a lot of criticism and love at the same time. After the nikkah ceremony, everyone was eager to know about the Junaid Safdar valima ceremony.
Junaid Safdar's Valima Ceremony
According to the announcements, the valima ceremony of Junaid Safdar and Ayesha Saif Khan will be held in Lahore on December 17. Close family members and some acquaintances are supposed to be attending the ceremony including some political ones like former president and Pakistan Peoples Party (PPP) co-chairperson Asif Ali Zardari, his son Bilawal Bhutto-Zardari and Pakistan Democratic Movement (PDM) president Maulana Fazl ur-Rehman. The grandfather of the the groom and the former president Nawaz Sharif and the former finance minister Ishaq Dar who are currently in London are told be joining the Junaid Safdar valima ceremony via a video call. According to the guest list, the ceremony seems more like a political meeting though.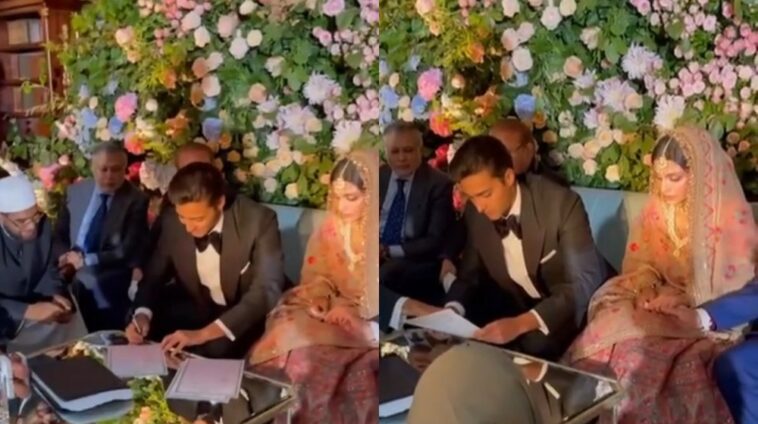 Nikkah Recap
Talking about everyone attending the valima ceremony, how can we forget that the mother of the groom and the vice president of PML-N, Maryam Nawaz and her husband Captain Safdar couldn't attend the nikkah ceremony of their only son. It was due to a valid reason because her name is on the Exit Control List (ECL) and because of many other ongoing cases involving her. But obviously, they can attend the valima ceremony as it is going to be held in Lahore. Well, we all are somehow looking forward to the pictures of the event and trolls on the valima ceremony.