" We need an infusion of new talent in the fashion industry all the time because fashion is about what's next"- Kamiar Rokni.
Khadija Bano met Kamiar Rokni, the Creative Director at The House of Kamiar Rokni and a mentor for the 'Emerging Talent' Segment at PFDC Sunsilk Fashion Week.
On His Journey to Becoming a Designer
I have been into fashion since I was a child. I used to doodle in my sketchbooks and would make fashion collections for every season.  I would make clothes for dolls as well. I learnt how to knit and started making sweaters for the dolls. I also made them for my cousins and myself. My grandmother would take me shopping with her and made me choose the prints.
By the time I had graduated from LACAS after my A-Levels, the Pakistan Institute of Fashion Design had opened and the timing was perfect as this is what I wanted to pursue. I graduated in 2000 with Saman Arif, Usman Dittu, Hassan Shehryar and Maheen Kardar.
When I started off as a designer, the market was not as competitive and there weren't that many designers. I was young and funky and there was definitely an audience for it then. Upon graduating, Maheen and I started Karma. The initial Karma lines were a burst of colour and did really well. It appealed to a young, fun crowd.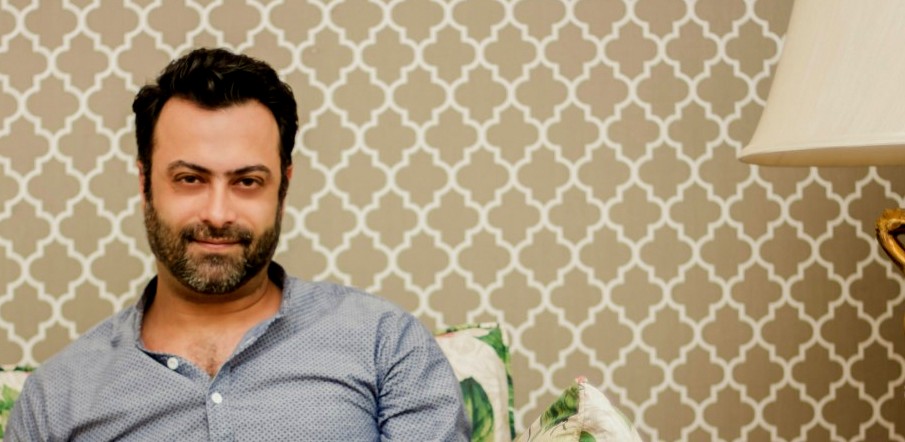 On the House of Kamiar Rokni
After a few years, I parted ways with Karma and started my own fashion house with my cousins, Tia Noon and Rehan Bashir. We believe in producing excellent quality traditional clothing with a modern twist. Our design philosophy takes into account not only tradition but also aesthetics, individuality, colours and is an amalgamation of cultural influences. Of course commercial considerations do come in- we do a lot of bridal wear and bespoke formal wear but we do not do ready-to-wear.
We take our inspiration from various sources- it can be something as simple and beautiful as nature, from flora or fauna or simply other cultures or something complex like a fusion of cultures. We have fused Russian, French as well as Persian and Mughal influences in our previous collections. We also derive inspiration from art and history.
The collection this year is about being on a voyage. Rehan and I went to Paris and were really inspired by the idea of incorporating European elements that we have not done before- there are elements from baroque and rococo. I also went to Iran their year and was inspired by the Mesopotamian Civilization. So this year, it's a mixture of ancient civilizations and the developed post-renaissance world.
We are happily doing our work and are on a path where we are concentrating more on the craft and its intricacies. We are planning on taking our collections to Dubai and the Middle East in general.
On His Favourite International Fashion House(s)
I currently like what they are doing at Valentino and Givenchy. I have always really liked Armani, as they are well elegant. My all time favourite is Yves Saint Laurent – the actual Yves Saint Laurent and not what they are doing now, even though I don't mind that.
On New Talent in the Fashion Industry
The new millennia brought with it a lot of new designers. Things have changed a lot since the 90's- people now experiment a lot with colours, materials and styles- not so much with silhouettes but that is also changing. People are experimenting a lot with clothes- we have people wearing cropped tops, skirts, dresses, etcetera.
We need an infusion of new talent in the fashion industry all the time because fashion is about what's next. We have come really far over the past five or so years with the fashion weeks and the fashion councils. There is a platform for designers to show their work and that has really changed things. Retail and ready-to-wear have changed the way people shop. I think we need a burst of genius design talent as we have not seen anything exciting since the days of Ali Xeeshan and Mohsin Ali.
However recently, Saira-Shakira are quite interesting. I like some of the work that they've done.
On the PFDC Mentorship Programme
When looking for talent, we always try to look for someone who has a new voice or new point of view.
We go through the students' annual graduation thesis collection and look for someone who is original and whose work is well crafted and has some level of accessibility. It has to appeal to a diverse audience, which includes not only the fashion journalist but also the consumer. We keep in mind the accessibility but obviously, creativity is above all.
It is a great platform- generally fashion week has changed the way things were done. The Bank Alfalah Emerging Talent Show goes on to show that the corporate world is well interested in this industry. It is also a competition as the best one is awarded prize money- this is great for someone who is looking to start out in this business.
On Emerging Talent This Year at PSFW
There are about five people that we have selected this time around for the emerging talent show. I advised some of the students on how to present and style their collections for maximum impact on the ramp. I am essentially involved in the selection process. I also advise them on how to style their collections and make them more palatable for a larger audience.
On Making it in The Pakistan Fashion Industry
It sounds like a real cliché but you must have tremendous passion and drive in order to make it in this industry.  You also need to have your own point of view and your own aesthetic, you can't just make stuff because you think it's going to sell. You must have the courage of your convictions and you need to have the ability to stick it out. To make an impact and to get noticed, you really have to be true to yourself and be original. Of course, going to a good design school makes a huge difference as well, but having a personality is also important. It is a very superficial industry so if you look and sound the part, it really helps.