The recent entry in the fashion industry, Mariyam D Rizwan, has a background in working internationally for powerhouses from brands such as Alexander McQueen & Ted Baker to experience in high-street design with H&M. Her designs are an interesting mix of Eastern & Western wear which is precisely what most women are looking for these days in the local market.
I have chosen two of my favourite looks from the brand's recent shoot and have a few pointers on how they can be styled. Always remember that a gown can look different on every person depending on how you accessorise it (jewellery, shoes etc) and the hair do (most essential in my opinion!)
1 – The dress has a simple, classy cream colour which is an ideal choice for an evening event – bridal showers etc. It should be more cinched around the waist to accentuate the figure, with a longer skirt billowing around to bring out the outfit's beauty. With such a dress nude makeup would do the job with a slightly less vibrant shade of pink for the lips while for the eyes adopt what you're comfortable with. (Smoky eye makeup, however popular it may be, should be applied with caution as it does not suit every eye type). Style it with simple strappy heels – metallic ones and a casual/messy updo and you're ready to go!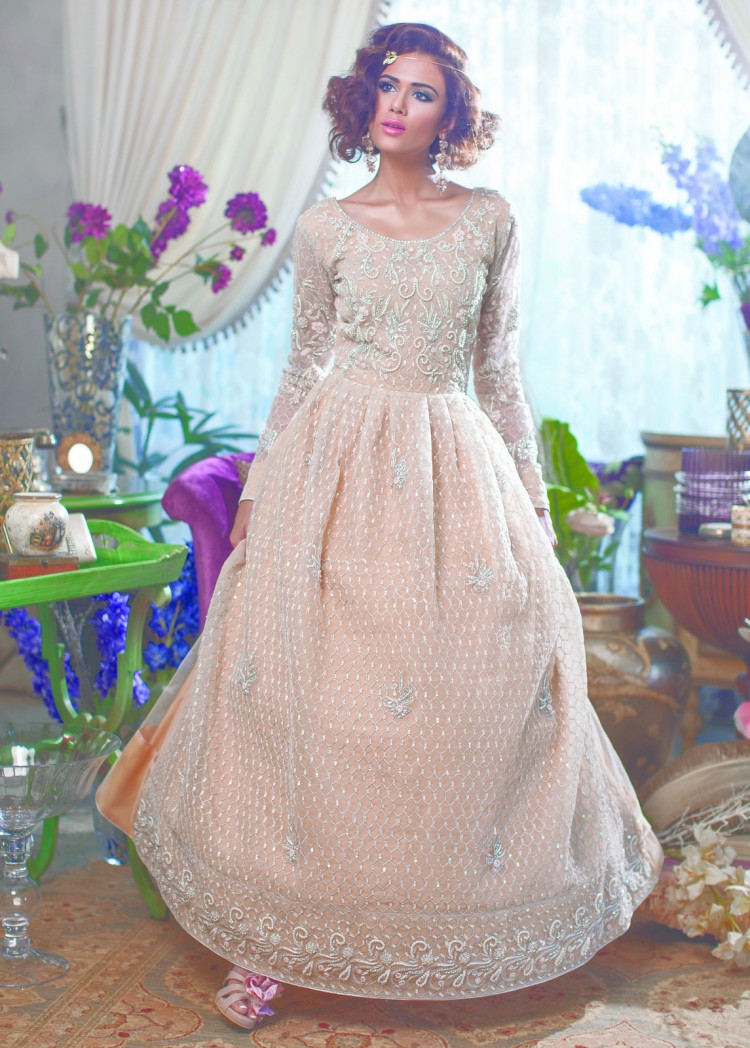 2 – I loved the simplicity of this dress which has a formal touch to it with the embellishments and the skirt detail. The flapper dress styling that has been adopted with this outfit goes well and adds a feminine touch with the headband and the layered pearls on the wrist. An alternative hairdo is a looser Audrey Hepburn-ish updo à la Breakfast at Tiffany's. Open toe heels would be best for such a dress and sparkly shoes would add some oomph peeping out under the skirt. Again, makeup could be slightly different with a deeper pink/purple hue for the lips and natural eyes volumised by layers of mascara. Pink hues for blush and a final dusting with mineralised powder will compliment this dress to perfection.