Mushk episode 18 was an emotional ride this time around and got us a bit worked up with some of the really tender moments between Adam and Guddi as we delved into their lives. And we're glad that the writer decided to focus on them and (evidently), add a new angle into their relationship that goes beyond the masks they wear for the world.
Urwa Hocane and Imran Ashraf were definitely the stars of Mushk episode 18 and we got to see an emotional connection develop between these two minus the battle of words, desires and egos. Their situations led them to express genuine concern, sympathy and care as they stepped up for each other in their weak moments with an undeniable chemistry.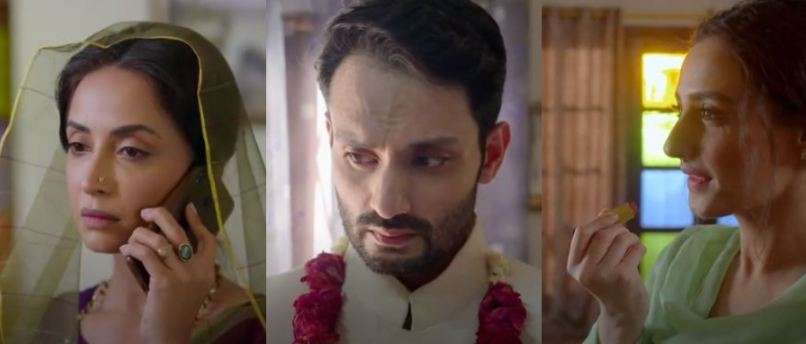 In the meanwhile Mehek is seen struggling with her decision to go to see Shayan without dada jee knowing the truth, Doctor Sahab is in knots in Guddi's absence, Zulekha is upset with her husband's recovery and wants to completely eliminate him, while Roshni is a sulking in a pool of regret. Shayan on the other hand has no other option but to comply because Muqaddar Khan has completely trapped him and we know that nothing feels right about "Child Marriages". But we're hoping that Mehek's sudden appearance might put a stop to the entire debacle in the next episode.
In the mean while, with so much going on Mushk episode 18, we did pick up some important life lessons that we're sharing with you.
LESSON #1, LETTING GO CAN BE LIBERATING
The biggest irony of life is that we don't always get what we want even if we've worked really hard towards it. Which is a lesson in itself, however that does not mean we give up and don't try again. Instead we pick ourselves up and move on from it no matter what it is; an emotional, physical or material loss. We should simply trust in Allah's plan and will, let go of the hurt and strive to do more.
Adam's opening scene where he's shown giving away the gifts to his sister he had saved for Mehek since she was a little girl, may be hurtful, but on a positive note, it's also liberating because holding on to past memories will only bring more pain and with his belief and faith in Allah, Adam knows that it's time to let things be as they are by accepting them and hope for the best.
LESSON #2, DON'T JUDGE A BOOK BY IT'S COVER
People aren't born thick skinned or heartless, unfortunately it is the circumstances and situations that lead themto become tough and put up a facade so they aren't unfairly treated again. Deep down we all crave love, acceptance and a home so we can feel belonged. So before judging someone for being brutal, it's always wise to understand why they are behaving this way because when we are hurting ourselves is when we hurt others the most.
Guddi's confrontation with her mother was emotionally moving because everything she's done since episode 1 has been to help her poor family wade through the realities of life and therefore she's been on the run without their support and care. The tough times that she's seen have transformed her into a selfish person who looks for her personal gain before doing anything, but at the heart of it, she's a small town girl wanting to be loved and be with her family.
LESSON #3, FORGIVENESS
Seeking forgiveness can be extremely hard but it can also set you free. I appreciated Roshni's efforts to go upto her father and seek his forgiveness for trusting and eloping with Saqib. It was painful and scary to accept her wrong doing but she was willing to make amends for hurting her family's integrity. This something that we all should learn and remember how our decisions can impact people close to us. And if  there is room to rectify any misgivings, then do it for yourself and others.
You can watch Mushk ep 18 here