The subcontinent has for long enjoyed a very special place in the hearts of Art aficionados with its thoroughly rich history that is full of culture, colour and meaningful traditions. Even more importantly so, is the outpouring of talent and expression in the name of Music, Literature and Spirituality that has been deeply rooted in one's essence, and is generally considered as "Food for Soul."
To bring like-minded people together under one roof and allow them to enjoy a night dedicated to Sufi poetry sung in poignant tunes and takes one in the realms of devotional odyssey, the ever-amazing team behind Rafi Peer Theatre Workshop are organizing the Mystic Music Sufi Festival at Alhamra Cultural Complex, Gaddafi Stadium from 9th till 11th February, 2018 with a massive line up that is going to transport you between worlds.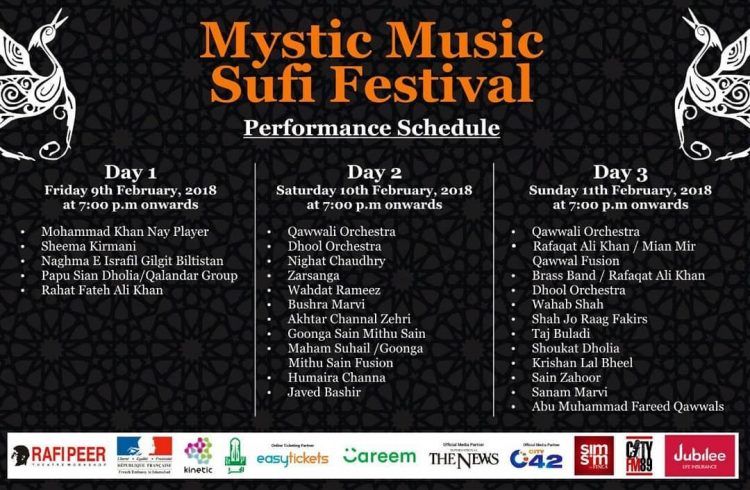 Deemed a blessing and path towards sanctity, the three-day event will be dedicated to some of the most intensely-arranged collaborations by the biggest names from the Sufi Music world. The Mystic Music Sufi Festival will feature the talents of Rahat Fateh Ali Khan, Krishan Laal Bheel, Humaira Channa and Javed Bashir to name a few – all of whom will display their mystical prowess in front of a Live audience that will sit engrossed listening to the beautiful Sufi/spiritual messages being conveyed through a medium of affecting poetry and soulful melodies.
The incredible efforts of the dynamic team behind the huge name that is Rafi Peer Theatre Workshop must be applauded for being able to deliver three days of absolute delight as the audiences will witness an intelligently curated show focusing on the incredible message of celebrating and embracing diversity and different cultures that ultimately helps in connecting one with his inner-most truest Self.