'What is all the fuss about? Why is backstage called chaotic, it seems pretty normal to me!' as I entered the venue on Day 3 PLBW I expected to be walking into a war zone, instead it was a happening yet quite an organized space I found myself in. Backstage, at any fashion week, has always been notorious for being heated and frantic, so I was expecting it to be a crazy night, since I was helping Nomi Ansari style Marjaan (not that he needed any help, that collection is exquisite beyond belief). We had collaborated with Hamna Aamir for jewellery and hair and make up was being done by Nabila's Team. Half an hour into being there and setting up our corner full of custom made jewellery for the show, everything seemed smooth.
We had worked on the pieces a month prior to the show and were very happy with the variety of naths, jhoomars, teekas, baalas, maalas, chokers we had managed to create with Hamna. Nomi has a very clear vision of what he wants, so when we discussed the final looks, we thought it was a better idea to make pieces and put them together, rather than going for the traditional complete set route.
Looking down at the table and still making mental notes on what goes with what I was smiling to myself, till suddenly one upon the other the ladies dressed in Marjaan started descending upon us for the jewellery and final touches.
The pressure was on, since we were hand picking pieces and making the looks on spot (Nomi Ansari is a brave man that way).
Now, you may think what is so complicated about pairing jewellery. I would have thought so too prior to this experience, but you realize when you see the models wearing the clothes that every thing doesn't suit everyone. First, the collection is so colorful that for a second you find yourself thinking should it be rubies, emeralds or sapphire (and you have exactly 3 seconds to make that decision). Second, the foreheads, you would not think that is an important part of one's face but try choosing a teeka and jhoomar in split seconds!! Third, (plenty of) those moments when you realize DANG! I gave the last emeralds choker to Cybil, I need something green for Amna Ilyas!!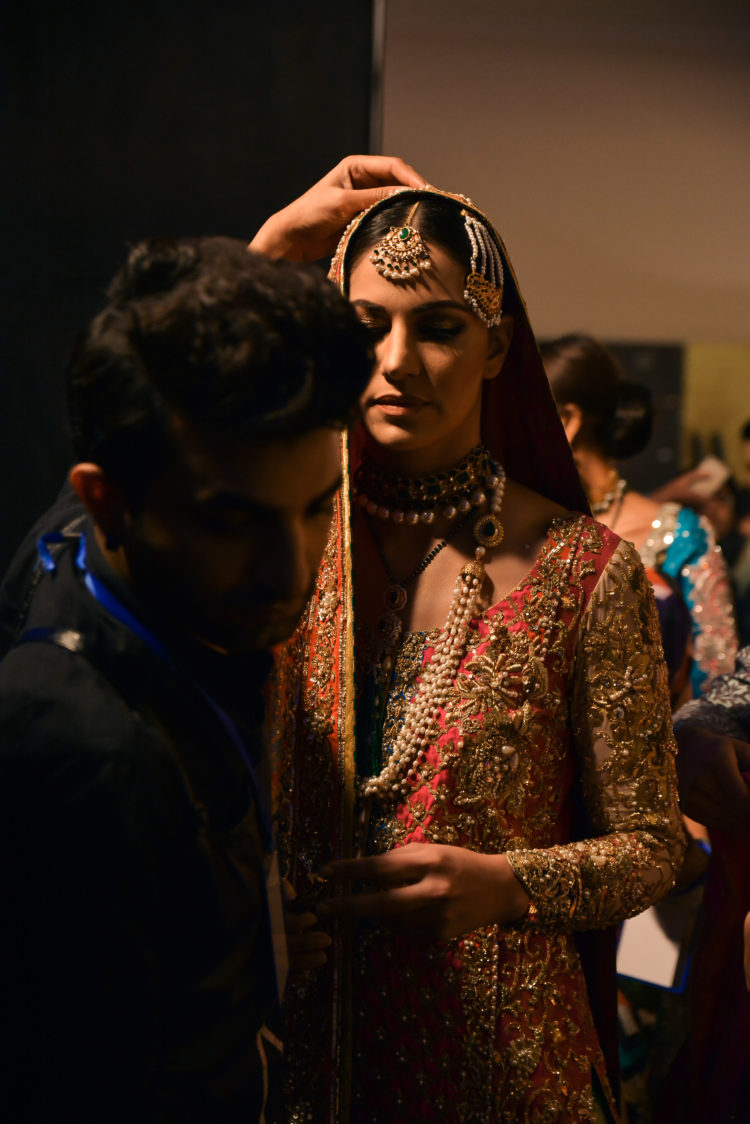 I was trying on various teekas, jhoomars, baalay standing their amidst the frenzy and under pressure of opening the show on Day 3 (and styling something for a perfectionist is no joke). Some models were nice enough to wear what I handed them, others wanted their own way, which was not adding solace to the panic.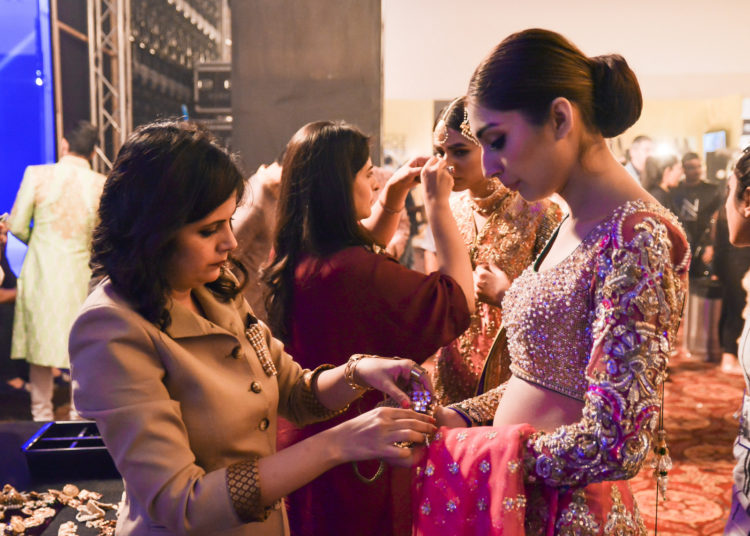 Right after we had sorted 17 looks, I found myself being the tray boy (of pins) for team Nabila and Nomi. Marjaan looked so elaborate on stage because Nomi had decided to make 2 dupattas for every outfit, and pinning them right was not as simple as one would think.
By the end of those 15 minutes or so (seemed a lot longer to be honest) we had 17 gorgeous looks, and not one of them was replicating the other. They were all uniquely styled, looking complete winners in their own right. Honestly, even after seeing the photographs of the show a gazillion times, I still can not pick a favorite, and that is the beauty of Marjaan.