[tps_header] Keeping up the tradition of our Eid series, we are featuring Nourhan's festive collection today. We were quite impressed by some of their prints in their previous collection, and find the festive collection quite appropriate in terms of the color pallet and fabric for a scorching hot Eid.
While there is an over dose of prints and designs out there, with designers and lawn brands churning out collection after collection for Eid, and while some of us are still getting our lawns bought in March stitched, it is quite a confusion. Which is why we showing you our 3 favorites from Nourhan's festive collection.[/tps_header]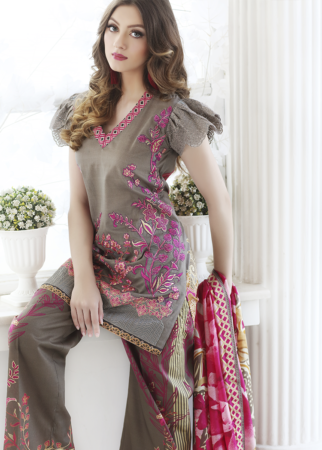 The beauty of this color and embroidery is it can be worn at any time of day (unlike light or dark shades). The pink embroidery on grey is offset perfectly and the fact that it isn't print heavy makes it look different from the clutter, making it a good choice for the festive season.