After ditching a plan to socialize, one winter eve, wrapped in the warmth of my blanket, I clicked on Parfum, hoping it was a adaption of one of my favourite books: Perfume by Patrick Suskind. And voila! It was- or so it seemed. If you haven't read the book, I highly recommend you read it. Where the book revolved around Jean Baptiste Grenouille's quest to capture the ultimate scent, the series takes a darker turn.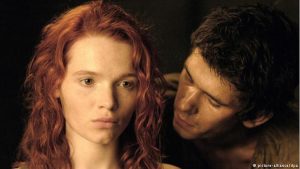 This show is in German so be very prepared to read subtitles, or change the audio to its dubbed version.
The story begins with the murder of a mild celebrity: Katharina Laufer, a singer. A peculiarity in this murder is that her exocrine glands and her hair have been removed with surgical precision. It is at her funeral that her former classmates come together, each wondering if the murder is in the room and whether its one of them. The story follows the coming together of these unlikely individuals from their early teens. How they met, their pursuit of Katharina and how odd yet twisted their relationships to each other become over the years.
Their past time during their younger years was cataloguing smells, so in order to take their experiment to the next level, they try to capture the smell of a dog, only to discover that whosoever wears the smell, is followed by the pups of this now dead dog. All five classmates share a deep secret, one they swore never to bring up again. One of the classmates, Mortiz de Vries goes on to become a perfumer.
A man of exceptional talent, who of course is the first in line of questions once the police start piecing everything together.

 
Eleina and Roman, though married share a volatile relationship. Roman is completely shaken by Katharina's murder as he always was in love with her. Daniel Sluiter is the misfit in this group of popular kids and also still in love with Eleina. Thomas Butsche is what could loosely be described as the owner of a brothel, brash but certainly principled. Parallel to the murder investigation are the individual storylines of all five classmates together and separately, as they grew apart over the years. 
The detective investigating this murder, Nadja, and ones that follow, also faces demons of her own, being in love with a married lieutenant who happens to be her boss, where she feels uncertain of their future. Upon finding out she's pregnant she becomes emotional and unsure of what to do. She delves deeper into solving this case, she also solves the murder of a young boy from decades ago and it turns out that this was the same family Eleina, one of the five friends, was adopted by.
As the episodes carry on, there are so many red herrings that make you suspicious of each of the five main characters and yet none of these result in anything concrete.
The story continues to unravel. It becomes obvious that Sluiter's love for Elena is boundless and he is willing to do anything to help her. Sluiter sees a psychiatrist for the many issues plaguing him, including being unable to carry on a physical relationship with women. The psychiatrist though a minor character, turns out to be just as insecure as the rest of the characters.
The Verdict:
If you are looking to watch a show with a gripping storyline, murder and mystery this show is definitely a must watch. The viewer is left with no unanswered questions, which is rare for a mystery. This story references Patrick Suskind's work but very loosely. Where it is like the book it is also very unlike the book! The show has a surprise ending that I definitely could not deduce.