Every new episode of Parizaad brings an exciting twist to the story by hooking up the viewers even more with the story. In the previous episode, Parizaad moved to Karachi and got a new job. However, he found himself in a challenging position when he caught an unusual activity in the factory. The new episode 10 begins with what happened when he complained about it to Mr. Behroze.

When Parizaad Complained to Mr. Behroze!
Parizaad is an honest man who believes in following the right path to reach his destination. He managed to approach his boss Mr. Behroze to complain about the unusual activity he observed at night going on in the factory under the supervision of Mustafa. As he told him everything, Mr. Behroze stared into Mustafa's eyes and instructed his PA to bring Parizaad at home in the evening.
Parizaad's Visit to Mr. Behroze's Place!
As Parizaad paid a visit to Mr. Behroze's place, his boss instructed him to tell the whole story now. He repeated his words and openly accused Mustafa of it. When the PA asked if Parizaad has any evidence for this complaint, he refused. The PA threatened him that Parizaad might be losing his life if he will be proved wrong. He daringly said that he is not afraid of it but the truth cannot be changed. Behroze again directed to bring Parizaad to his home.
Parizaad's Final Meeting with Behroze!
When he met him again, Mr. Behroze said, "You are brave, you are loyal but you are also very foolish; and fool always gets killed because of his honesty." He added, "You should have gathered all the proof against Mustafa before accusing him." Behroze said that Mustafa is loyal to him for 25 years and if Parizaad was proved wrong, he would have been killed. He further explained that the only mistake Mustafa made was that he didn't check who was on the duty during midnight that day. Behroze asked Parizaad about why he has come to Karachi to which he responded that he wants to earn and become a wealthy man. Behroze said that money is not something that grows on the trees. One has to shed blood to become rich. He asked Parizaad if he would be doing so to become a wealthy man and he agreed. Well, it seems Parizaad is in a trap now. His duty has been revised.
Parizaad is Appointed as a Caretaker for Behroze's Wife!
The new duty was different but it made Parizaad get a chance to find a Piano in Behroze's house and out of his passion, he touched and tried to play it too. Well, Behroze's wife wasn't aware that she will be monitored closely now. She got ready to go out for meeting friends and noticed Parizaad accompanying her along with the driver. She was enraged and asked Behroze who is this new guy accompanying him in the car?
Behroze explained and when his wife was out for a visit, Parizaad stayed like a shadow with her which was an annoying thing and made her angry to get back home. The PA asked on his return home why Behroze's wife was upset and Parizaad explained it all well. PA again warned him that be careful as Behroze loves his wife a lot and cannot see her upset so don't make any mistake even if he is on right.
When Parizaad Played the Piano!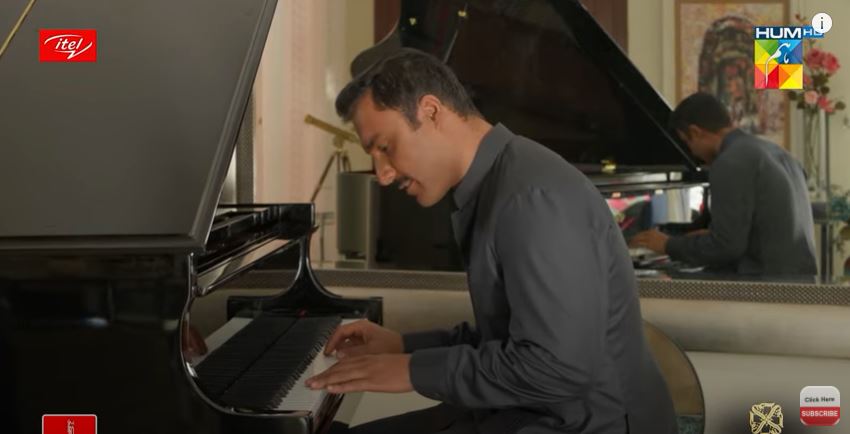 Mr. Behroze told Parizaad that this piano belongs to his wife so he must be careful in this regard. However, the kid inside Parizaad compelled him to approach the piano again and he dared to properly sit there while making a move to play it. He never had any lessons to play this musical instrument but it was his passion that made her play it so well. The music got Behroze's wife's attention and surprisingly, she was not angry to notice this activity. It seems Parizaad has finally made a soft corner in Behroze's wife's heart. However, there is still a lot to come.
Watch episode 10 of Parizaad now!