[tps_header]Pakistan has one of the most unforgiving summers in the world. Which is why we really love scouting for a great kurta every chance we get. For kurta shopping, our priority is always finding that piece which can be paired in different ways, is trendy with summer-friendly fabric and most importantly is easy on the pocket. Our hunt for the perfect eastern wear outfit led us to Ideas pret's new line.
Available at all their retail stores, nationwide, the latest collection by Ideas Pret is an exciting combination of different colors, patterns and styles. The entire collection is a vibrant mix of designs. However, these three kurtas from their collection definitely stole our hearts. Priced between PKR 2000 to PKR 3000; these gems are definitely worth having in your closet before the season is out![/tps_header]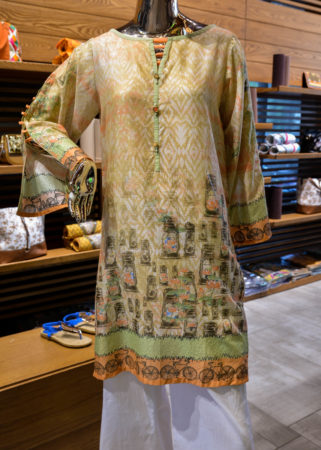 The yellow lantern and bicycle printed kurta is one that definitely caught our eye. Of course, we love the vibrant color palette on this beauty but we love the fabric and the wearability factor. Honestly, you have to touch the cloth to know the magic! This one is a definite favourite of ours.