We love our share of Karachi designers – they are always a fresh new look at the way pret and formals are being done! And Shamsha Hashwani one such designer! She is based out of one of our favorite metropolitan cities aka Karachi. Although, Shamsha has been working in the industry for three years already, this is the first time that she has launched a store. Her flagship store opened in Karachi on February 28, 2015.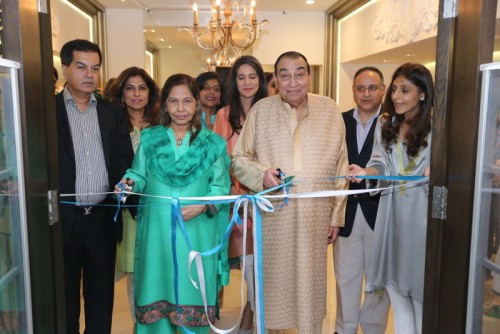 In celebration of the newly launch outlet, the brand held an event where a fashion walk was presented showcasing Shamsha's latest collection. We just love that the store was inaugurated by her father making this an event devotedly supported by friends and family.
The said collection in showcase, now available in store, has been inspired by Epictetus, a Greek Stoic Philosopher, using a vibrant color palette. The entire range of outfits also incorporates fine embroideries, innovative cuts to create tapered silhouettes that showcases a fusion of modern and traditional ensembles.  Most outfits are, however, eastern and reflect a more traditional aesthetic with just a slight twist of western appeal shine through the sides.
Shamsha Hashwani is known for her swoop-back pleated twill, uber glamorous shirtwaist and bespoke outfits. She is also known for her Indian Chikan Kari craft woven pieces with luxurious Indian embroidered fabrics. Her forte is trendy pret wear to classic formals ensembles. Her brand aims to encapsulate the essence of the powerful modern woman who appreciates intricacy and enjoy refined delicacies. Previously, the brand has held many pop-up exhibitions including places like Dhaka and Labels Lahore. It seems that now they are taking substantial steps into expansion by offering retails to their patrons.
If you like what you see and want to get a hold of your favorite outfit – Shamsha Hashwani outfits are available via appointment, her e-store http://shop.shamshahashwani.com and now her newly launched outlet. Happy Shopping!