The final night of the Telenor Fashion Pakistan Week came to a close on a high note, thankfully. The presented collections were memorable for one reason or the other and the day over all fared better than any so far.
The night opened with Sonya Battla's collection 'Manora' based on the work of artist Nazia Khan. Featuring drapes, braided ropes, free flowing silhouettes, Sonya experimented with a colour palatte ranging from beiges to bright blues. Her collection kicked off what was to eventually be a strong day with each designer showcasing their signature sensibilities one after the other. In Sonya's case, we saw a stongly bohemian, earthy aesthetic which is hallmark of her brand.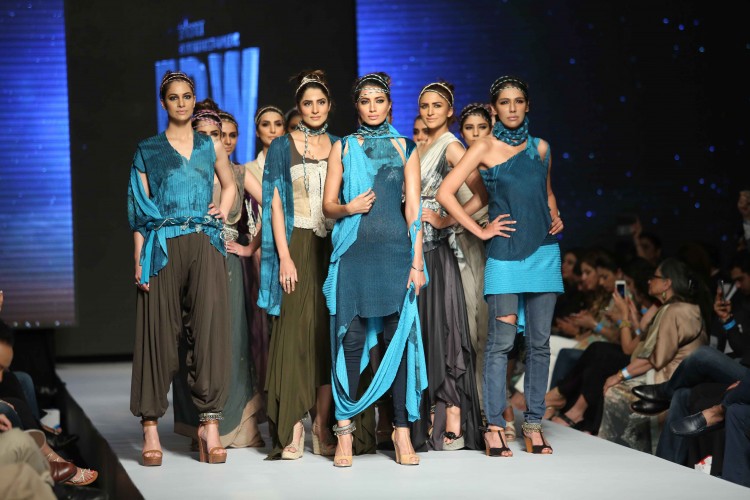 Fifth Element by Rizwanullah for Swarovski featured yet another all white collection at the fashion week. The designer boldly showcased his mastery over a range of silhouettes which included layered gowns, jumpsuits, saris to dresses. Rizwanullah's presentation stood out for his beautiful play with fabric given he used no additional embellishments.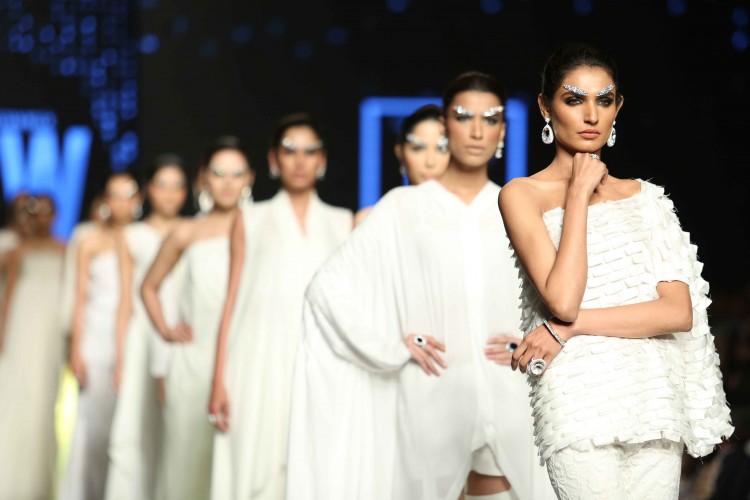 Maliha Chaudhry of Daaman is the epitome of Chic. Her collection which again featured white paired with navy and beige showcased mostly trousers, tops, jackets and more, ready for retail. We are excited to see whether these silhouettes will find their way to the store given the dearth of chic western wear in the market.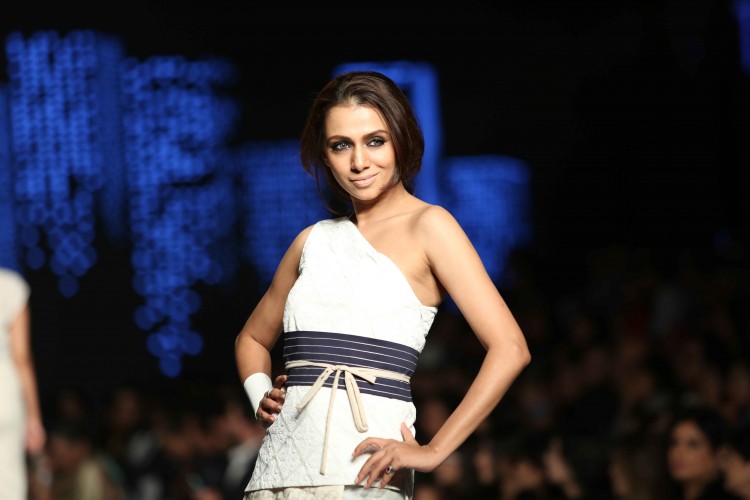 The closing act for Day 4 first half was Zara Shahjahan. Zara who was all set to present at Lakme before the FPW but couldn't owing to logistical reasons, fused two of her signature styles: the whimsical florals with the edgier tribals. Though an unlikely mix, the fusion worked out decently for most looks in the presentation. Cashing in on a 70s trend going strong this spring, Zara Shahjahan kept her silhouettes flowy and boheme. Perhaps stronger styling could have added an additional punch to the presentation and made more of an impact.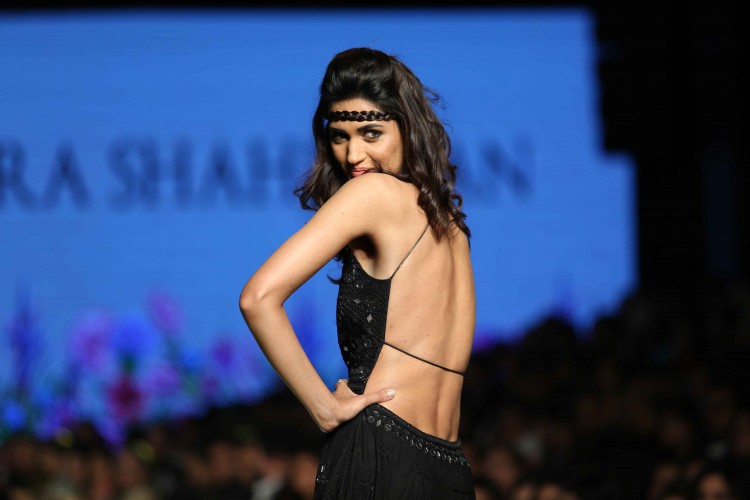 The second half of the showcase opened with Deepak Perwani. Showstoppers Pooja Bhatt and Ali Azmat, in addition to the first face, Frieha Altaf's daughter Perishe's runway debut helped make this potentially the most talked about collection at TFPW.
Deepak's collection also channeled a distinct 70s vibe but unlike Zara who was more casual in her presentation, La Dolce Vita took us to the more decadent, more luxurious side of the decade.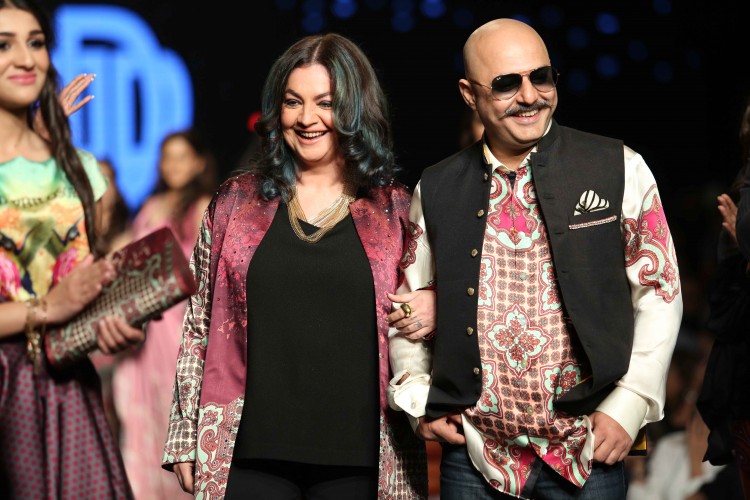 Unfortunately, there always has to be at least one, if not more, collection that fails to impress. Amna Aqeel's collection was a gaudy embellishments, over done designs all seemed to be trying harder than necessary masking any potential that the designer has in layers of complicated silhouettes.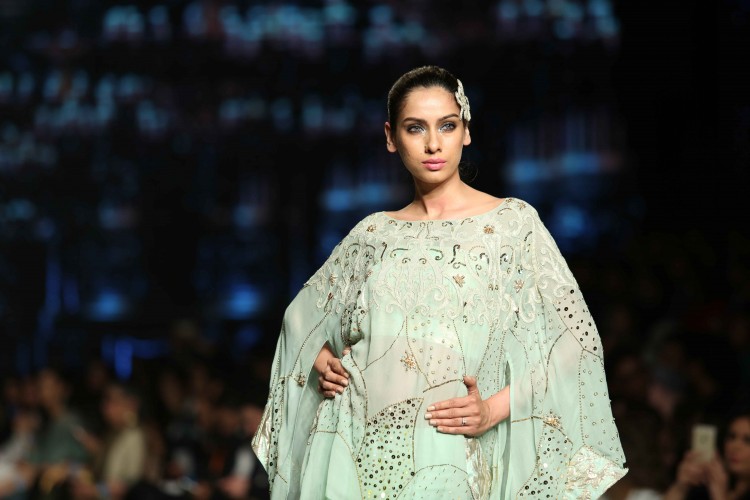 The finale of the night and the Fashion Week was Shamaeel Ansari, a Fashion Pakistan Council member. Her showcase was nothing short of spectacular featuring signature Shamaeel Ansari cuts and silhouettes working around stunning detail. We could personally not have thought of a more befitting way to end the fashion week.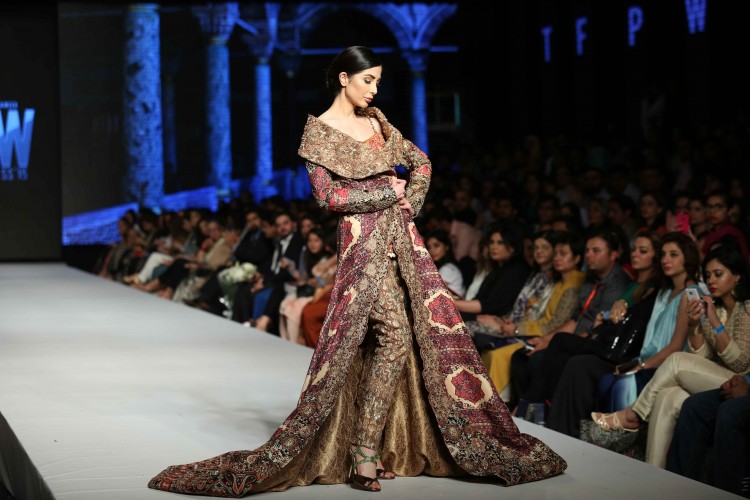 The Fashion Pakistan Week was a culmination of glitz, glamor and fashion that Karachi has to offer. All four nights of the fashion week celebrities and socialites were seen dressed up and ready to rock the red carpet. We saw some emerging trends out of which whites, the fringe and skirts clearly came out on top.
Credit where credit is due; Latitude CRS (Nusice Jamil, Omar Jamil and their team Izza, Ali and Zainab) did a marvelous job juggling between issues of seating, Wi-Fi connectivity, coordination, front stage management (though that is not the job of a publicist!), backstage, on-ground facilitation and so much more. Furthermore, credit goes to Nabila, Tabesh and their team for doing spectacular makeup and hair backstage.
Meanwhile, PFDC is all set to happen in Lahore from April 18 onwards. We are looking forward to impeccable fashion on the ramp in-line with international trends and local needs, the timeliness of the showcases, new faces on the runway and most importantly the right kind of crowd. With high hopes and great expectations, looking forward to PFDC Sunsilk Fashion Week.