The first day of  the Telenor Fashion Pakistan Week Spring/Summer 2015 kicked off in high-spirits however the fashion presentations lacked the desired impact. Every fashion day has its high and lows but unfortunately, when punctuality of the event is the highest point of the evening you know that the fashion presentations failed to leave a lasting impact.
We could blame the line up for how the day progressed, but we know there were numerous factors that came into play. Starting with the struggle of Bank Alfalah "rising talent" which made many wonder where exactly are we going with chained-women masks & inflammable plastic-wear? The capsules presented by three-young designers missed both innovation (we've seen the 50 shades-inspired capsule before at TDAP) and finesse. The students clearly need mentoring to transition their skill into the 'real world'.
Contrary to these capsules, Madiha Raza, winner of the Maybelline New York Millennial Fashion 2014, stayed true to her signature craftsmanship, displayed bright (yet done to death) floral blouses paired with neon tights. She made good use of her forte in leather laser cutting and mixing 3D textures but missed impressing as she did with her 'Flight of Birds' collection.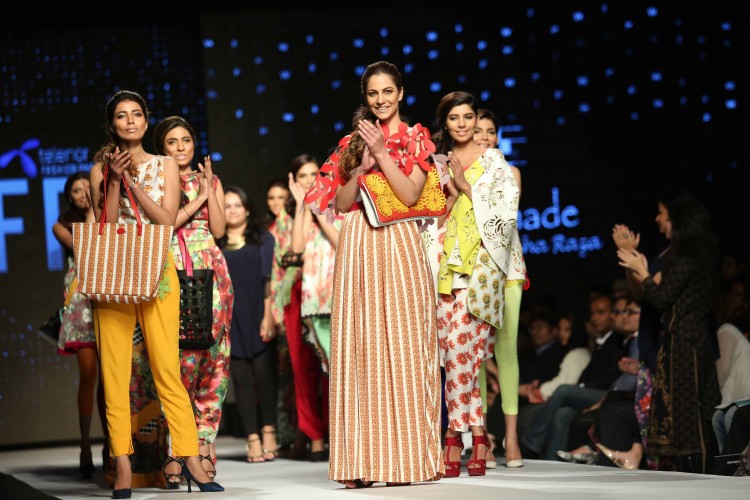 On to the safest collections of the evening, Nida Azwer's 'French Trellis' and Sania Maskatiya's 'Khayat – The Tailor', both top our charts for Day 1. Nida's take on luxury-pret capes, and tunics embellished with crystals and pearls was commendable, but not particularly memorable. Same goes for Sania Maskatiya's tape measure and thread roll digital motifs, sported on her signature silhouettes: crop tops, jackets, cheeky tunics, and the 'on-trend' full-length 70's flared trousers.
In midst of her overall very vanilla collection, Sadaf Malattare's fringed pieces, deserve some recognition. The mini-dresses were well in-line with the global S/S'15 trend..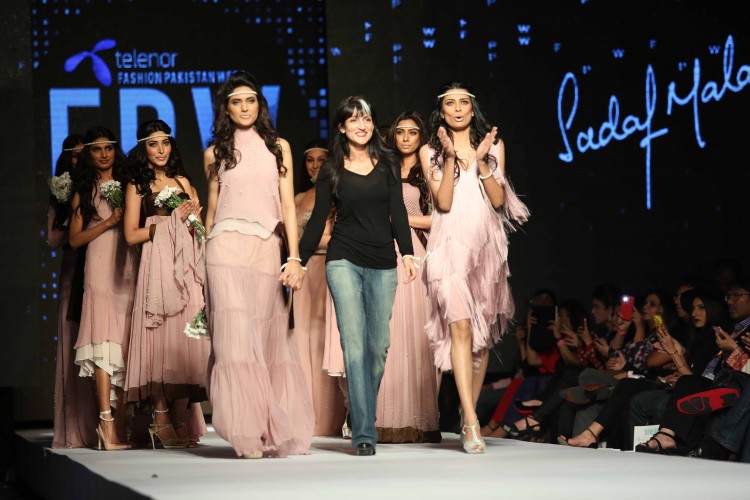 FnkAsia too, should also be lauded for its efforts in bringing the sexy-back. (Pun intended). Huma's detailing and cut-work on the back of each dress was very-well on point, but the kaleidoscopic palette that we've grown to associate with Fnkasia was nowhere to be found.
Maybe the perky, teenage girl had finally grown up to be a FnkAsia woman (Who has a fondness with sober-hued frocks?!!??) We can never tell.
We patiently hold our breath and expectations for the Day 2 of TFPW15. x
—-
All images by Rayan Qamer of Black Ink Studio.