With a passion for designing and decorating spaces, Marium Atif and Amina Rehman have recently launched The Loft–an interior design house with a modern aesthetic and crisp accents.
With their finger firmly on the trends pulse, Amina and Marium believe that their is beauty in simple clean lines rather than furniture screaming for attention.
We caught up with these two to know more about the project:
The Loft…how long ago and how exactly did it start?
The Loft officially opened it's doors to the public in September 2015. However , we have spent the past few years developing our design concepts and training artisans. After collaborating on several projects,  we decided to make this passion professional.
How is your approach to interiors different from your peers?
We firmly believe that it's about the client's style and not our own. While we offer our clients several options, in the end they are in charge and that's a rare luxury in our local market.
What does it take to be an interiors/furniture designer?
An innate flair for colour, proportions and architecture is important. While a passion is crucial for any line of work, it must be accompanied by hard work and a lot patience.
What are the challenges specific to this kind of work?
The biggest challenge is ensuring that each piece is reflective of it's owner's personality. We like to spend time in making our clients feel as passionate about their purchases as we are and sometimes that poses a problem. We also have a strict policy of quality control and want each piece to be perfect –this is not always an easy task.
What are the current interior trends?
 We are in love with everything gold! This yellow hued metallic is our favourite in bringing glamour  to interiors. Brass , gold and metallic finishes are very popular right now. Another popular new trend is the use of lucite– lucite chairs , coffee tables bar stools. We particularly love the idea of mixing materials. Lucite paired with wood or metals is an international favorite.
What kind of space do you have at home?
We like modern, clean and straight lined Interiors. Naturally, our homes reflect this style. For a warm, well- designed home, we recommend that you add statement furniture , some colour and a bit of nature. One of our favorite decorating tip is to have fresh flowers in your home all the time!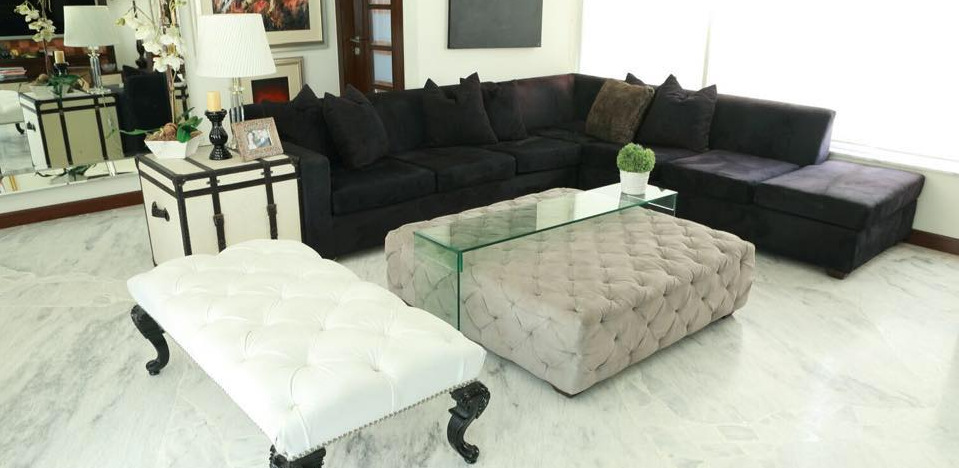 What are your strengths as a team?
Our ability to recognize each other's strengths and align them with different responsibilities makes us a strong team. Also, we come from a closely knit family which has taught us that unconditional support is the key to any successful relationship.
What advice would you give someone looking to do up their house on a budget!
Everyone can benefit from a budget. In order to make the most of your budget it's important to start with a pre-determined figure in mind and we always work around that. No task is too big or too small– all will receive our complete attention. We suggest that you buy the important pieces first – the bed, the sofas and keep them classic so that they last you long. Have fun with the accessories.
Share your most loved project/experience regards to The Loft with us.
We are working on a line of home accessories and furniture made with our favorite material — brass! Also in the pipe line is some modern furniture with bone inlay.