Being an avid foodie myself, I can certainly relate to the dilemma of eating healthy whilst not comprising on the taste department. For the longest time, we have been conditioned to believe that 'eating healthy' refers to chugging down meals with a low calorie count. That such foods only consist of boiled veggies that carry no taste. Why wouldn't we shiver in horror as a response? However, when there's a will, there's always a way! A little research and a few trials in the kitchen led us to come up with these fantastic recipes. All under a total count of less than 300 calories! Continue reading to find out how we are staying fit without making our taste buds unhappy! Here are the three dishes under 300 calories that will satiate you!
CHICKEN WITH MUSHROOM SAUCE:
INGREDIENTS
2 teaspoons cornstarch

1/2 cup fat-free milk

4 boneless skinless chicken breast halves (4 ounces each)

1 tablespoon olive oil

1 tablespoon butter

1/2 pound sliced fresh mushrooms

1/2 medium onion, thinly sliced

1/4 cup chicken broth

1/2 teaspoon salt

1/8 teaspoon pepper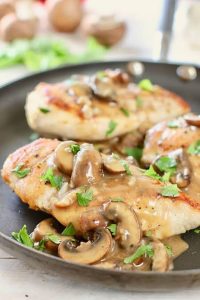 INSTRUCTIONS:
Mix cornstarch and milk until smooth. Pound chicken with a meat mallet to 1/4-in. thickness.

In a large nonstick skillet, heat oil over medium heat; cook chicken until no longer pink, 5-6 minutes per side. Remove from pan.

In same pan, heat butter over medium-high heat; saute mushrooms and onion until tender. Stir in broth, salt and pepper; bring to a boil. Stir cornstarch mixture and add to pan. Return to a boil; cook and stir until thickened, 1-2 minutes. Return chicken to pan; heat through.
1 serving: 225 calories only.