Let's face it, money doesn't grow on trees, brownies have carbs and calories and you are not immune to the process of ageing, so it's best that you take care of yourself right away.
Take a look at your favourite celebrities, no matter what they do and where they go, even in their most unflattering self, they look so refreshing, especially on long flights. Ever wonder if they've been sipping on a special herbal tea that you don't know about or do they just pop a sleeping pill and wake up beautiful? Nah!
Relax! Besides getting soaked in a deeply hydrating skin mask, we asked your fav ladies some in-flight pampering and beauty tips to keep you busy on long flight so you can step out glowing!
EYE PATCHES OR EYE CREAM
When you're a celebrity and traveling, that's when you're so stressed, busy and tired, so a good eye product comes in handy because it helps to those bags away and/or gives those puffs a good run
CLEANSING WIPES
Yes please! So you want to look like a star when you get on board, take a few selfies but once you're done, it's best you take off your makeup with some mild cleansing wipes before you're in mid air and your skin feels like a rough patch in your life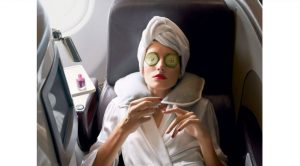 LIP BALM
Promise that you'll swear by this? Because you can never forget a lip balm before your lips start cracking and keep hydrated
TOOTH BRUSH
A tooth brush will your breath fresh after the in-flight snacks, food and drinks.
CHOOSE YOUR MEAL CAREFULLY
When I'm mid-way through a long haul flight and feeling tired, I'm more likely to opt for the richer or heavier meal on offer, which inevitably makes me feel sluggish and bloated.
Instead, opt for healthier items that aren't overly greasy or salty. Your skin will thank you