All us moms go through that phase when we just don't know what to feed our kids and pack in their lunch boxes they will actually eat and enjoy. I have the same dilemma, especially since I insist on feeding my 4 year old daughter healthy and fresh food while her friends at school only bring chips and nuggets with packaged juices to school (and God help me some even bring candy)
This is why I have developed a few tricks to making her lunch box healthy and interesting so she doesn't venture towards the packaged food. These are some recipes that can be done without much hassle, since mornings are rushed and even mothers who have to make it to work can fix them in little time.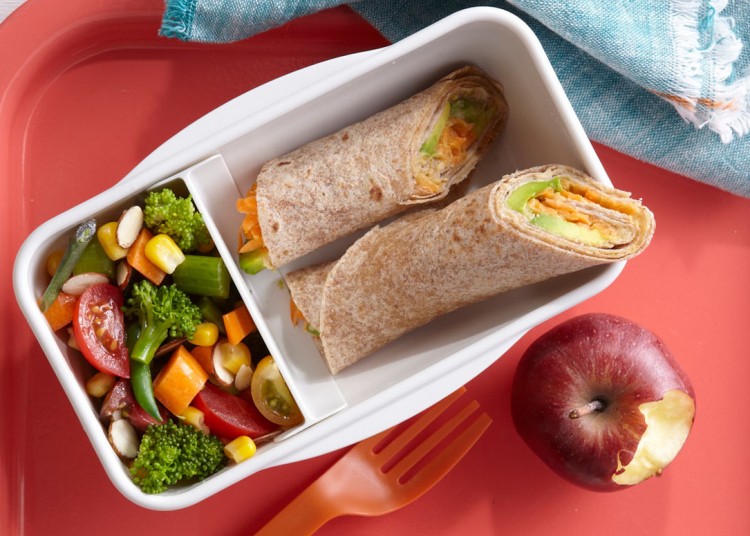 Crackers, Cheese and Olives: With good nutritious value and no fuss to prepare or eat this combination can be made interesting every time by using a variety of cheese (my favorite is Seriously Farmy Cheddar) and different kinds of saltish crackers (even TUC works) your kids can enjoy. You can pile the combo up and finish off with a toothpick and olive, or just use different shaped crackers this is a great option for a lunchbox.
Vegetable sticks and shapes. With a variety of shape cutters available, giving veggies like carrots, cucumbers, radishes and even avocados can be fun. Add a pre made or homemade dip sauce (sour cream works well) to make this a healthy and fun treat.
Sweet Potato Fries (Baked): Take a peeled sweet potato and dice it like fries. In a bowl add the fries and layer with little oil and top with seasoning (salt, pepper, garlic powder and paprika as option). Layer a baking tray with parchment paper and lay down the coated fries (do not over crowd). Bake for 20 minutes in Pre heated oven (230 degree C) till the fries are tender (turning occasionally).
Pita rolls: Stir fry slices of organic chicken and add a little bit of premade tomato sauce, with a dash of salt. Place the slices in middle of a pita bread and shred iceberg lettuce and carrots on top, add some sweet corn and olives and roll the pita. Cut the bigger roll into two or three smaller ones and add a toothpick to close. You can also use avocado paste rather than mayo or ketchup on the pita.
Creamy Pasta Salad: Add this dish the day children have some physical activity, since pasta has carbs which will give them energy. Boil a portion of pasta in salted water till its al dente. Do not over boil as then pasta becomes pasty when cool. Boil an egg and put it in cold water to cool, followed by peeling the egg. Take two bowls, in one add pasta, eggs, some shredded cheddar, and veggies (boiled) of choice. In the second bowl add green onion, sour cream, a dash of mayo and mustard and stir till it becomes a smooth textured paste. Add the paste to the pasta mix. (you can prep this recipe at night and chill in refrigerator in an air tight container!)
DO NOT FORGET TO SEND THE WATER BOTTLE-EVERYDAY!