"The last thing you want is to smother your client and put her off her comfort zone by placing your hand through her hair the minute she walks in," explains Julie Marechal, French hairdresser and styling expert to an enthusiastic crowd of hair stylists, salon owners and beauticians.
A one-day, informative workshop that was held by L'Oréal  Professionnel at the heart of Karachi city on 31st August 2015 primarily focused on the launch of Blond Studio in Pakistan. It introduced Julie Marechal as a guest stylist, who is well-known for her 6 year long association with L'Oréal  Professionnel and currently serves as an Education Manager for their Middle East region.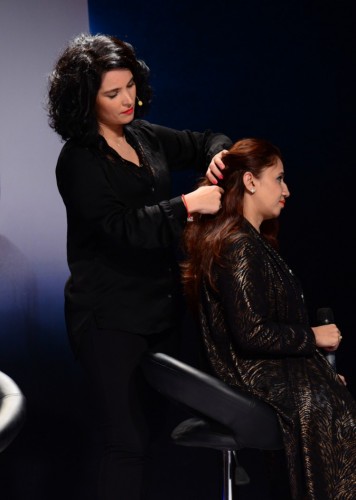 Keeping in mind Marechal's heavy French accent, Tanzeela, L'Oréal spokesman accompanied her on stage from the very start and interpreted the tips Marechal generously shared. Marechal began by establishing basic Do's and Don't of dealing with clients as they approach the salons for their services. She emphasized over the idea of building a level of trust and confidence with the client as soon as they walk in.
"Spearing 10 minutes of your valuable time, sitting down with your client and taking her preferences into consideration during hair-consultation will take you long way in terms of bonding with your client," shares Marechal.
As the session progressed, Marechal managed to keep the forum light-hearted and engaging by keeping the floor open to questions. She continued to bust plenty of myths regarding hair color and styling before introducing season's three hottest hair-trend namely: Wavy Bronde Contouring, 70's Layering Balayage and the Sun-Kissed Baby Bob. She then tackled each look with an extensive hair-tutorial, followed by briefing of Blonde Studio product used and a ramp walk.
For the Wavy Bronde Contouring look she applied Majriel Cool Cover 6.17 with 20 volume on mid-band and roots for 35 minutes to see the results. She picked different products from L'Oréal Professionnel's Blonde Studio range for coloring, in salon care and styling followed by recommending home care products to the Model client.
To attain the 70's layers Balayage look, she picked out Majriel Cool Cover 7.8 to be applied with 20 volume on mid-band and roots for 35 minutes, followed by product recommendation and a beautiful blow-dry for maximum result.
And lastly, Sun-kissed Baby Bob look remained not just the hottest but also Team SiddySays' favorite trend of the season. To get this quirky, yet sophisticated look, Marechal applied Majriel Cool Cover 5.8 with 20 volume on mid-band and roots for 35 minutes. She then proceeded to straighten the hair with flat iron and apply Fix-Anti-Frizz moose for long-lasting sleek and stylish look.
With that said, Team SiddySays recommends its readers to head over to their favorite salons across Pakistan and opt for any of the above mentioned hair makeover brought by the long trusted L'Oréal Professionnel Blond-Studio.