The beauty world has been swamped with skincare routines that claim to give you that coveted J-Lo glow and help keep those wrinkles at bay. However, owing to our busy lives, following a 15-step skincare routine may not be everyone's cup of tea. This is where, we suggest that that you get on board with face serums. Face serums are skin products – packed with powerful hydrating and soothing agents. They are products applied onto skin after cleansing and is lighter than oil and absorbs quickly. However, carries more beauty benefits than an ordinary moisturiser.
Here are some of our favourites:
Sunday Riley C.E.O. Rapid Flash Brightening Serum: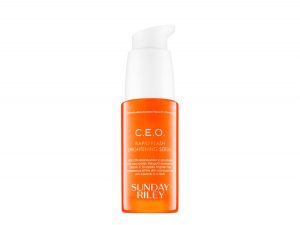 If you find yourself looking dull lately then rejuvenate your facial skin cells with this fast-acting serum that's packed with vitamin C. Its formula promises to bring back the brightness that you've always longed for, and also helps in keeping wrinkles away.