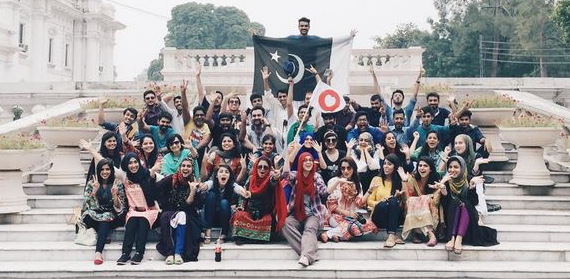 #InstaMeetLahore4
Summer in Lahore tends to be hot. Very hot. Not to mention the high humidity levels that one has to face as soon as the 35+ degrees air hits your face as you step outside. Between the months of May and October, expect yourself to be stuck inside with a ceiling fan or air conditioner on 24/7 where you limit the amount of time spent roaming around and about under the blazing sun.
What better time to have our 4 th Instameet Lahore than during the sweltering summer?
Jokes aside, this Instameet Lahore was organised with good intention; to allow Instagrammers living both in Lahore and near the city to meet up at a specific location to finally get the chance to interact with one another in person. Those living abroad who are also visiting the area are also encouraged to attend. It's become increasingly easy to make do with communication over the Internet through social media such as Instagram by commenting on each other's photos or messaging each other directly, however Instameets promote the idea of face-to-face contact with one another to give a greater sense of belonging to the Instagram community than before, as well as allowing Instagrammers to get outside their homes and actually meet other people- as we all know, we're social animals, not 'social-media' animals. We crave for human interaction, and Instameets provide us with just that.
Not only can Instagrammers finally meet who they've been following on the app for so long, but they also have the opportunity to spend the day taking photos of each other and the area in which the Instameet has been organised at. For #instameetlahore4, this was located at Quaid-e-Azam's Library, in light of the oncoming Independence Day of Pakistan on the 14 th August, and Lawrence Garden.
The Instameet officially began at around 10am, where Instagrammers sat in a circle in front of the beautiful library and introduced themselves (as well as their Instagram usernames- initially it can be difficult to recognise who is who without that!). Instagram goodies were also distributed to everyone. After that, group photos and videos were taken before the Instagrammers could explore the area. As the day passed by it gradually became hotter and hotter, but that didn't stop anyone from making the most out of their time and taking as many photos as humanely possible.
One of the most interesting things about Instameets is what the Instagrammers manage to create in the photos they take during the time they're together. To make it easier to find these photos, each Instameet comes with their own unique hashtags which the Instagrammers can use when posting their photos on Instagram. For this Instameet this included #instameetlahore, #instameetlahore4 and #lawrencegardenmeetup. These photos tend to create a lot of hype on Instagram for those who live in the same city or country as many known Instagrammers who all have attended the same Instameet end up featuring in each other's photos, which in turn makes the whole idea of Instameets more popular. This was only the 4 th Instameet in Lahore and the turn-out was pretty high; I can't imagine how many more new faces will appear at the next one.
Of course, each Instameet takes a lot of time and dedication to be organised in the first place. For this Instameet we were lucky enough to have Amjad (@unmaderhyme) and Nida (@nidalvi_) figure out the logistics of this Instameet for it to even happen. Appreciation to the both of these lovely people is in order, as a lot of the crazy-awesome photos you may have seen on Instagram wouldn't have been possible without these two.
To add a more personal note to this blog post, I would highly recommend attending at least one Instameet if you ever get the chance to. I've been to two so far- the first one being an iftar instameet during Ramadan. In the short space of time between the iftar meet and this one, I have made quite a lot of new friends over Instagram. Honestly, it has enriched my experience of using Instagram by 1000% as I now belong to an 'Instafamily' that I'm so happy with. It doesn't matter how good your photography skills are or that you may be a little shy when meeting new people- trust me, you'll meet some of the kindest, warmest, most big-hearted people you'll get the chance to meet in this city.
Interested to join future instameets in your city be sure you follow these Instagram accounts
Lahore: @instameetlahore or @unmaderhyme
Karachi: @im_pakistan or @s_aamer
Islamabad: @instameetislamabad or @sidratulnoor
Peshawar: @instameetpeshawar or @ibrahimzauq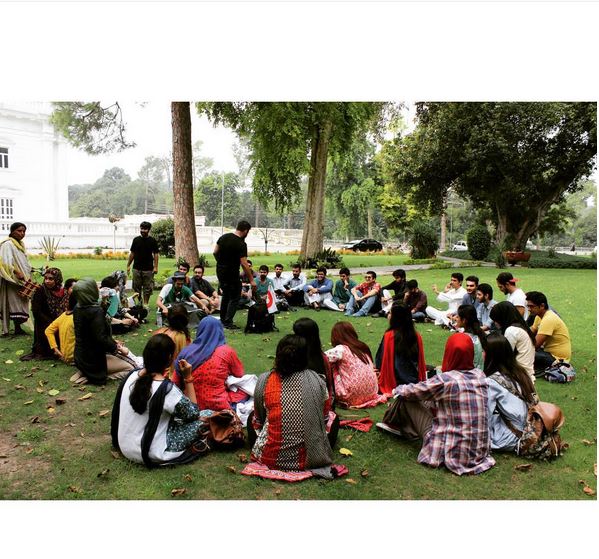 Photo by @nidalvi_