Question: how do you folks usually spend your weekends? For me, it's catching up with family and my old school friends. Past weekend was no different! We decided to purchase tickets for 'Mom' – the last cinematic collaboration project between Pakistan and India, that stars the megastar Siri Devi and our very own, Sajal Ali who continues to wow her audiences with every performance she gives.
So guessing by the title of the movie, we knew it would be another rather cute movie about all the efforts that mothers put into making the lives of their children as close to perfect as possible. Sweet, but a rather overused concept. Or so we had thought.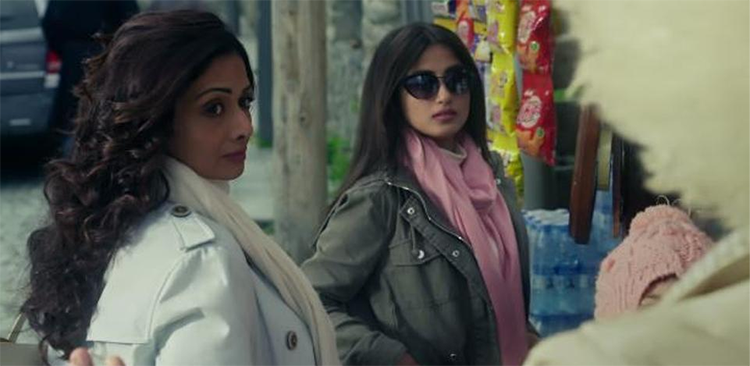 We felt ourselves experiencing dreaded thrill as we watched a black car race speedily on a deserted Delhi road on a dark night and just before daybreak, Arya (Sajal Ali) is seen being thrown out into a roadside drain. What happened in the car was not shown, but left for the audience to imagine. Nevertheless, the message that was sent across in the above mentioned terrifying situation was clear: Delhi is not safe for young women. Terrible things can happen to anyone, anywhere.
What happens next in the movie is a thoroughly convincing performance given by Sridevi in the hospital scene as she portrays the role of a mother being emotionally torn apart by the ordeal that her daughter has had to face. The audience was left in tears, and many could relate to the anguish experienced by victims of such incidents, thanks to the utterly realistic portrayals played by Sajal Ali and Sridevi, who really is a star for all the right reasons.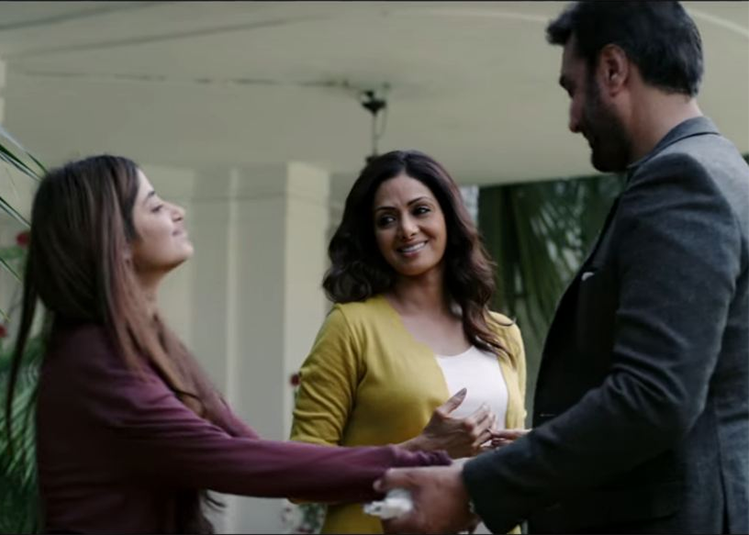 Devaki (Sridevi) is your average disciplined biology teacher who shares a rather strained relationship with her teenage stepdaughter, Arya (played brilliantly by Sajal Ali). Their worlds turn upside down when Arya is taken and molested on a dark night. It further separates them emotionally from each other but Devaki is focused on proving that this terrible incident shall not become reason for further distance between the two of them and more importantly, she is bent on avenging revenge from her daughter's molesters.
To give away more of the story would be taking away from its well executed 148 minutes of cinematic brilliancy as viewers watched with bated breath the fight of a mother against her daughter's wrongdoers by taking Law into her own hand, determined to let nothing or nobody stop her.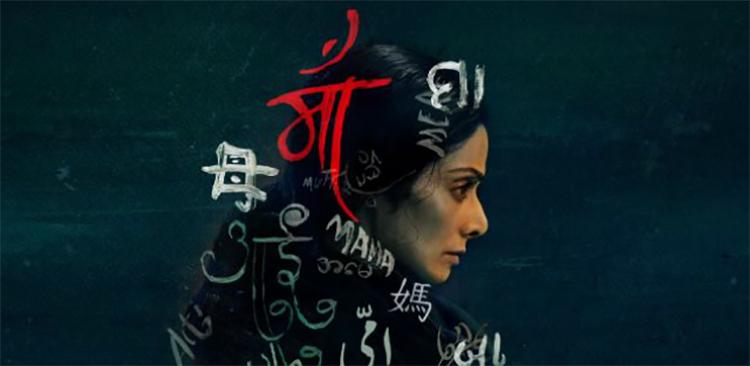 The movie's supporting cast includes Dayashankar Kapoor aka DK (Nawazuddin Siddiqui), crime branch cop Mathew Francis (Akshaye Khanna) and our very own Adnan Sidiqui as Sridevi's onscreen husband Anand. All of the actors gave relatable performances and the audiences were able to feel the authenticity in their characters as well as they appreciated Devaki's valour or sympathised with Arya on her tragedy.
All in all, we would recommend this to everybody to watch the priceless relationship of a mother and a daughter from another angle, albeit a troubled one.
Siddy Says Ratings: 4/5