"My sister does it, my cousin does it, my family's done it. It fell in my lap and I was like, I should do it too. I would regret it if I don't," says Sikander Rizvi, talking about his lead role in the film Dekh Magar Pyaar Se alongside Humaima Malik.
Everything from his, stubble sprinkled face, and an ebony mess-hair to his laid-back jeans and tee look, indicate that Sikandar Rizvi is a star-in the making. Just days until his debut film with ace, director Asad-ul-Haq hits the big screens, Sikki (as he preferred to be called) is getting cold feet.
"I told [Asad], you're gonna lose your money. I'm going to make a fool of you," he laughs, "but, he's also the reason I said yes, in the first place!"
In an exclusive interview with Team SiddySays, Sikki sits down and talks about his life before the limelight, experiences with Xanders and his future endeavors.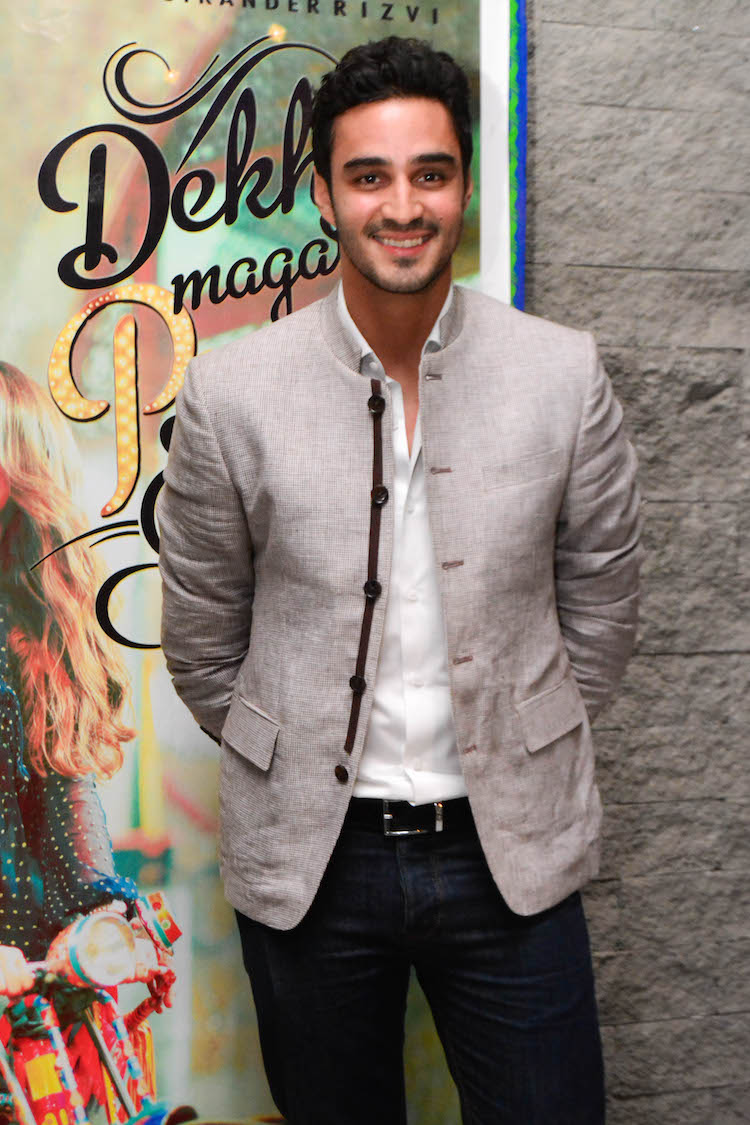 1. From an ace restauranter, to an aspiring actor, did you anticipate any of this to happen?
No, I actually didn't expect this to happen at all. It all just fell in my lap! These guys contacted me and told me to come in for an audition after the Olper's ad. In my mind, I thought it'd be for yet another Ad. I gave the audition and it was really tough. But 3 days later, I got a call-back.
2. You're the grandson of Madam Noor Jehan and brother of Sonya Jehan. What's it like living up to that image?
Everyone asks me that, and I think that's a very obvious question to ask. For me, my grandmother was my "dadu." I was aware, while I was growing up of who she was, and as I grew older, I got to see what a legend she was and how people were awed by her.
My sister, Sonya Jehan, did a movie with Shah Rukh Khan and my cousin, Ahmed Ali Butt, is another league altogether. Sonya has done 3-4 movies, Ahmed's been in the limelight for years and this is my first debut film that I was asked to do. So, I'm aware people are expecting quite a bit. But I don't compare myself to them.
If anything, there's inspiration. I want to learn and take inspiration from them. There is no such pressure, because I'm so-and-so's grandson. My grandmother was my grandmother and there is no one that comes close to that.
3. Just like acting, singing is also in your gene, so, should we expect you trying out in that field of art?
I love singing, but I sing in the shower! Haha, but I don't think singing is going to come anytime soon.
4. What was it like to work with Asad ul Haq?
Working with Asad was fantastic. He's super duper professional and the team he has created is fantastic. They all really know what they're doing. They're at the top of their game, which is probably the only reason that he managed to finish the movie in 45 days. It was only possible through his vision and his talent of creating a team which works for the movie.
5. Tell us about your character Sikandar, in the film Dekh Magar Pyaar se?
Oh, Sikandar is a a love-sick rickshaw driver, who's under the spell and charm of Humaima. I'm a dreamer, so I keep falling in this dreamy scenario of being in love with her. But the interesting part is that my character has different sides to it, so Humaima and I, both have personality twists which you'll get to see in the movie.
6. How similar is the reel Sikandar to the real one?
Well, for starters, I don't drive a rickshaw anymore! Haha. But yeah I'm a dreamer, but not to an extend as that shown in the movie. That Sikandar is a dreamer to another level.
And I would say, I'm a romantic. But as a whole, it was difficult coming into the character at first because I didn't understand what it was all about. But once the scenes started rolling and if it required me to be pissed off. Then I took some time off and thought about things that pissed me off in real and how angry I would be in real. So I guess that made it a bit easy and relatable.
7. What was it like back in school days? Were you subconsciously attracted to school plays etc?
I loved it! I loved school plays, I loved theatre. I did creative drama in school. It was fantastic.
8. You're surrounded by your sister Sonya and your co-actor Humaima. Did you get to learn anything from the two-power ladies?
Sonya is a super talent actor and the key to her thing is that she's natural. So she doesn't overdo any scene or act things out. Before saying yes to the film, I did some howework. I read a book on acting. And one of the best things I learnt was the art of reacting. You see, it's all about listening and then reacting to it with emotions.
Humaima is a great actress, so when she was acting, whether it was flirting or being angry, I just tried listening to her, and put myself in that place and react. She's also really good at lighting and camera angles. And I would always come in the middle and block her light. So there would be a loud 'cut!' and Asad would call me out and tell me that I'm always cutting half of Humaima's face out by the way I'm standing on screen. So being around her, I quickly understood those kinds of things.
9. Is there any piece of advice Sonya gave you?
I think Sonya said "don't let this get to your head" which it won't.
10. In the movie, you're styled by HSY. What was that like? And how similar was it to your personal style?
My personal style is very laid back. But I do like to look good because if I look good I feel okay. I'm a jeans, linen shirt kinda guy. And I do like to dress smart casual. Even my role as a rickshaw driver in the movie, I wore kurta and a waistcoat over jeans. That was very comfortable and casual too.
11. Last year, I remember the front row buzzed with excitement the minute you walked out on ramp for Deepak Perwani. What was that experience like?
The ramp was very comfortable. I was nervous before, but then when I came back, I was okay with the entire experience. But, its not something I look forward to particularly. I don't thrive on walking on the ramp. It doesn't give me thrills. I might do it for a friend in future, like I did for Deepak. But my main focus has always been food!
12. Has there been any embarrassing blooper on set?
I nearly lost my eye. But that wasn't funny! I was trying to get into one scene. We're sitting at this table, and Humaima is talking to me and I'm getting angry and there's a coil of rope that I'm supposed to throw against the table. I figured it would look super cool and dramatic. So we do this scene, once and twice and everyone's applauding and telling me how wonderful it's coming out. But near the 11th take, we did it again, but this time around, I threw the rope, it came back and hit my eye.
The entire shoot was then cancelled for 3 days. My eye was blood-shot red and there was a blood-clot. I was like, man this scene wasn't worth almost loosing an eye! So I wouldn't say it was a blooper, it was more of an intense scene.
13. Most of the movie is shot in Lahore. What was the experience like?
Lahore is a beautiful city, way way more beautiful than ours. The safety aspect and the beauty aspect, was fantastic. The weather was really good in the days we were shooting. It's much smaller than Karachi though!
14. A lot of people are comparing you to Ali Zafar and Fawad Khan, in terms of looks and acting. Is that a bit intimidating?
Firstly, I'd say wow! I had no idea. Haha, it's amazing if people are saying that, because Fawad has another level and Ali is just in his own league. It flattering if people say that, but if they're are comparing me to them, they're absolutely wrong!
I don't compare myself to them. And it's only intimidating if you compare yourself to someone and you fail. So you fear failure. And I think Asad has taken a big gamble by taking me as a lead. He's taken a huge risk by choosing me. He could've gone for any other safer option. But then, again, Asad always pushes the edges and takes risks. That's probably why Asad is who he is today!
15. Who do you look up to as an actor?
I like that guy, Nawazuddin Siddiqui. I think he's fantastic. He does his roles so well. And Irfan Khan. I mean, they're both so versatile and believable. Acting for them is effortless.
16. Why should people come and watch DMPS?
I think every Pakistani should go and watch every Pakistani movie that's coming out. I'm watching every single one of it. People should go watch DMPS, because it's a well rounded romantic comedy where you can bring your grandmother or grandchild. It's a full-on family entertainer.
But it's also not just that. It has a lot of unexpected scenes, twists and stories that people are going to like. Its Asad ul Haq's first movie, and Asad is known in the industry for capturing beautiful shots. So the shots I've seen till now are absolutely phenomenal.
It's just first of its kind.
17. Where do you see yourself in the next few years?
My main thing isn't this Industry. It will never be. I have my restaurant and a couple of other projects. But having said that, I've also enjoyed the whole acting experience. It was great stepping into this industry. So I'd love to do things side by side. If great things come my way, I'll do them.
I'd also like to put the word out that I'm currently planning to expand Xanders, and take it to Lahore. So I'm currently in the middle of looking for a place to start it off from!