The tradition and art of jewelry is as old as human colonization. It is human nature that one wants to be distinguishable amongst others, along with acknowledgement; hence the use of unusual bones from animals and different kinds of leaves to decorate their bodies. This nature provoked the desire to draw and decorate the cave walls. As civilizations evolved, art and jewelry started to evolve with it. Today we realize that traditional norms are now challenged every day.  The House of Aliel in collaboration with jewelry designers and artists, have brought forth a unique jewelry exhibition at their exclusive boutique, and showcased the beauty of hand-crafted specialty jewelry with today's artistic mediums and inclinations.
The Vasl Collection by Aliel is a contemporary amalgamation of seven remarkably endowed artists with jewelry designers who have used their creative aesthetics with traditional jewelry designs and created 11 spectacularly curious pieces that break the conventional boundaries of art and jewelry making.
The fundamental idea behind a jewelry piece is to connect and harmonize. The uniquely crafted hand-made jewelry pieces with precious metals and stones is a major stepping stone set by The House of Aliel in Pakistan to promote artists and their valuable skill set that has been incorporated in specialty jewelry.
The metamorphosis between The House of Aliel, the jewelry designers and artists are intended to bring originality and imagination in the process of blending artistic pursuits and artisan jewelry.  This process  has been initiated with the help of these seven artists; Salima Hashmi, Farida Batool, Ghulam Muhammad, Sheraz Faisal, Wardah Shabbir, Shakila Haider and Yasir Waqas, who hail from different parts of Pakistan along with distinguished historians, visual artists, graphic designers, miniature painters or digital artists. These diversified men and women have contributed by elaborating modern-day art into jewelry in order to explore a new side of jewelry design. The art and fine jewelry designs have either directly been inspired by the artist or incorporated into jewelry pieces to preserve the uniqueness of each design.
SALIMA HASHMI
Salima Hashmi is an artist, curator and contemporary art historian. Professor Hashmi was the founding Dean of the Mariam Dawood School of Visual Art and Design at Beaconhouse National University, Lahore. She taught at the National College of Arts [NCA] Lahore for 31 years and was also the Principal of the College for four years. She is a practicing artist and has participated in many group exhibitions and has had 6 solo exhibitions at national and international levels. She was awarded an Honorary Doctorate by her Alma matter Bath Spa University in a ceremony in Bath Abbey in 2016. Ms. Hashmi has also been awarded with title of Professor Emeritus from BOG Beaconhouse National University on the 12th convocation in 2017.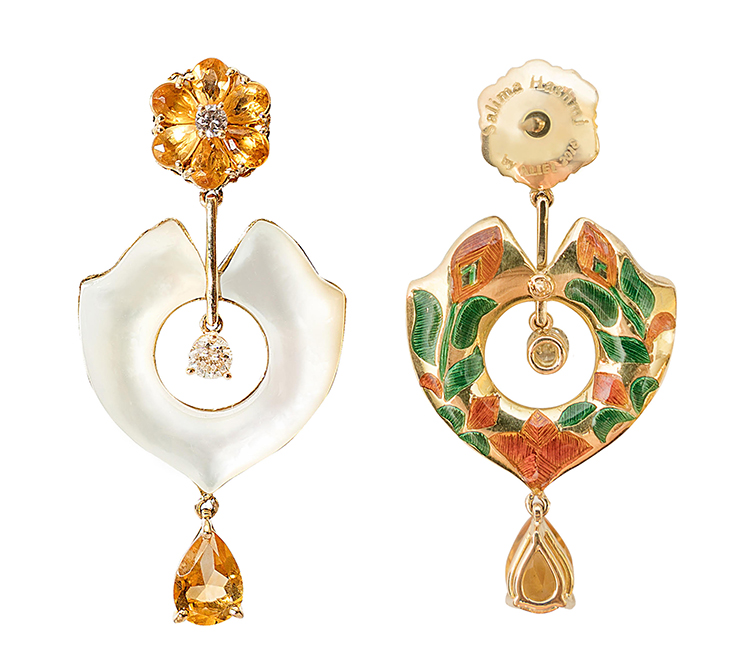 This unusual pair of earrings Heart Still is inspired from her sixteen feet long scroll drawing done in 2006. Diamonds, yellow citrines and carved mother of pearls set in 18K Yellow Gold. This exquisite and stunning pair is embellished with hot enamel at the back.
FARIDA BATOOL
Lahore-based Visual Artist and researcher in visual culture, Farida Batool completed her Doctorate in Media and Film in 2015 from SOAS, London University. In 2003, she acquired her Master of Arts in Art History and Theory (Research) from the College of Fine Arts, University of New South Wales, Australia, and received her Bachelor of Fine Arts from National College of Arts, Lahore, Pakistan in 1993. Batool is interested in developing a comprehensive cultural critique of Pakistani, Islamic, and Western modes of everyday life, which is also reflected in her recent short film for the BBC online called The Clash of Masculinities.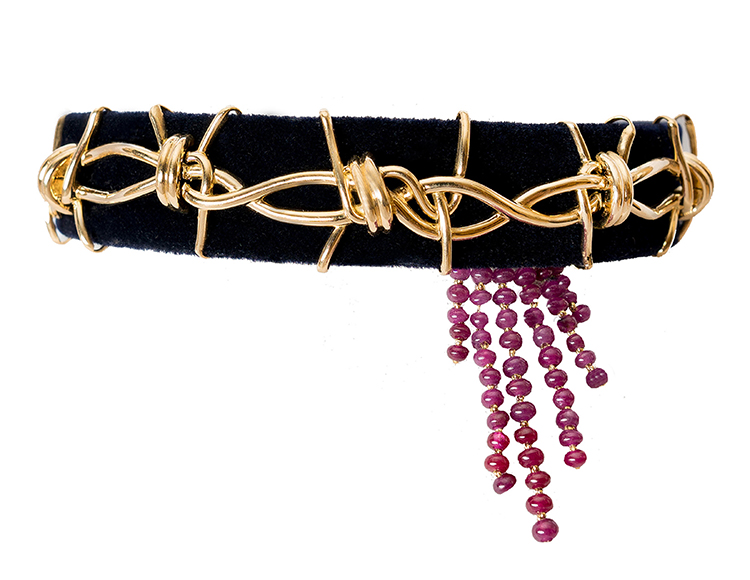 This choker Stay with me incorporates Burmese Rubies and 18K Yellow Gold is set on deep blue velvet band to enhance its mystery and charisma.
GHULAM MUHAMMAD
Ghulam Mohammad is a Visual Artist, born in Kachi Baluchistan. He lives and works in Lahore, Pakistan and graduated with distinction in Fine Arts from Beaconhouse National University Lahore 2013. During his student days, he was selected for Inspire Trip to University of Central Lancashire (student exchange program under British Council). He did his Masters in Art Education form Beaconhouse National University in 2017. Currently he is teaching as a Senior Lecturer in Fine Arts department at Beaconhouse National University. Mohammad is a first Pakistani to be a recipient of Jameel Prize 2016.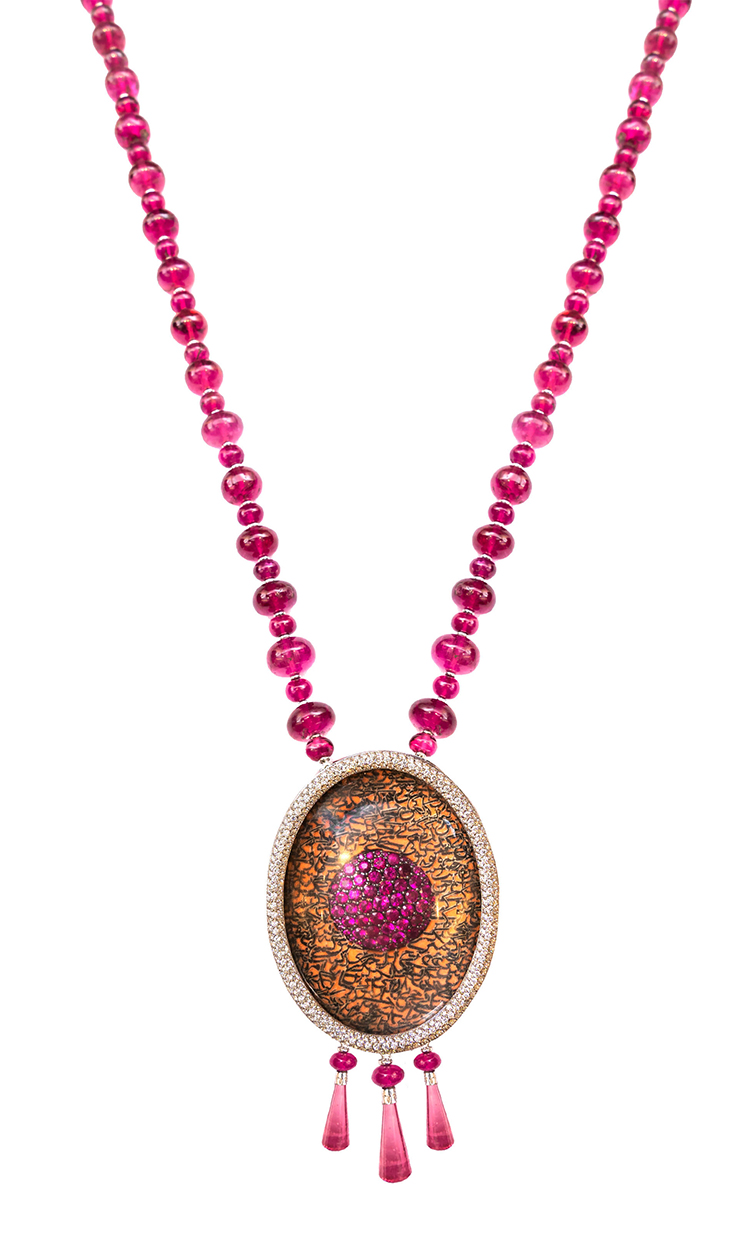 This fine piece Two Loves-I  is created using art work (collage on wasli paper) coved with rock crystal glass, Tanzanian rubies, Rubellite, tourmaline, tsavorite beads and diamonds set in White Gold and silver.
SHERAZ FAISAL
With degrees of Masters in Art Education and Graphic Design, Sheraz has critically observed his culture, surroundings and politics to establish his art practice. His art practice varies from drawings to digital medium to address his concerns with the audience. His teaching experiences with Pakistan Institute of Fashion Design led him to understand the diversity of jewelry as a medium and its making. He has exhibited his work nationally and internationally "Art without Boundaries – an Exhibition of South Asian Art" at NM Art Gallery, Dubai. October, 2010. First solo show "Viscous Rivers" at Color Gallery, Lahore 27th September, 2013.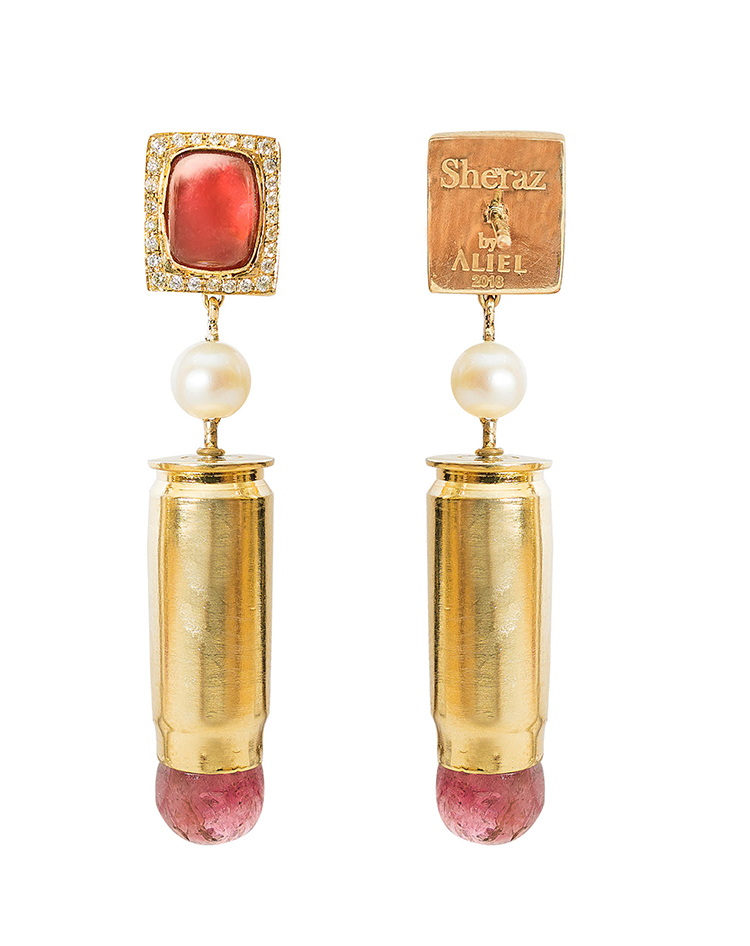 Oblivion by Sheraz Faisal is created with a fired bullet shell, set with pink tourmaline and white pearls in 18K Yellow Gold with diamond halo.
WARDHA SHABBIR
Wardha Shabbir lives and works in Lahore, where she graduated from National College of Arts with an honors in 2011, followed by the prestigious Principal Honor Award. Wardha has been awarded with many scholarships, grants and was also selected for an exchange program in Paris, 2010 with (ECOLE) during the Academic year (2007-11). She has been awarded the best young artist Award from AL-Hamra Art Gallery, Lahore, Pakistan (2011) and was the first artist from Pakistan selected for Flacc, Belgium where she initiated a research-based experiment on human Sensorium while transforming a 2D miniature painting into 3D Interactive Environment. In 2016, she became part of the Summer Intensive Program at The Slade School of Fine Arts, London, UK. Wardha has also been a part of DAS (Dhaka Art Summit), Scope (Basel), Contemporary Istanbul (Turkey) and various group and Solo exhibitions in the well –renowned galleries of Pakistan. Wardha has recently been shortlisted for the prestigious Jameel Art Prize 2018 of Victoria & Albert Museum, London, United Kingdom.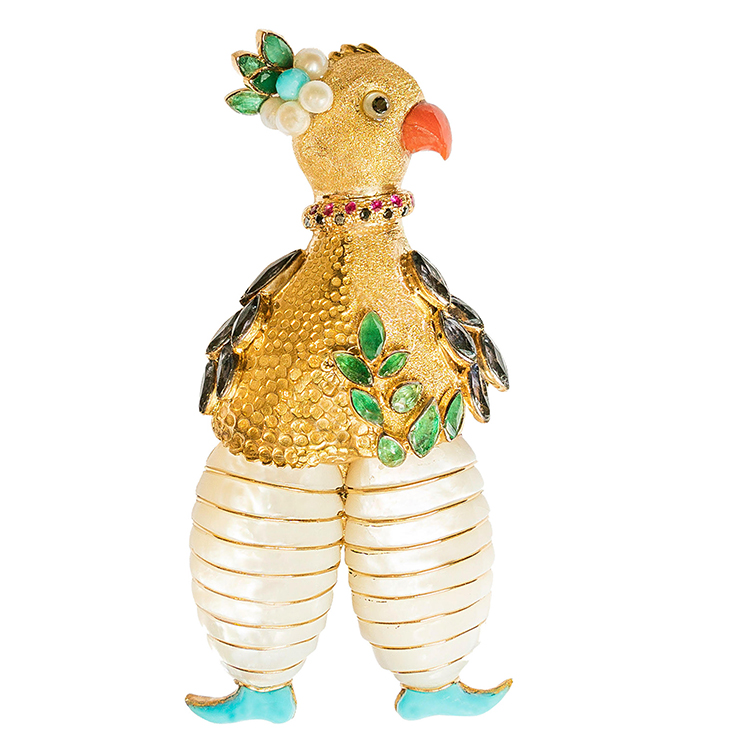 This Brooch Parrot is made of Black diamonds, Tanzanian rubies, emerald, iolite, carved mother of pearls, red coral, turquoise, white pearls and 22K Yellow Gold assembled in the technique of Okas work (hand beaten).
SHAKILA HAIDER
Shakila Haider lives and works in Lahore. She is a graduate in miniature painting from National College of Arts and currently doing a Masters' degree in Art Education from Beaconhouse National University, Lahore. Haider uses her art practice to tackle issues of cultural injustice. As an artist she feels that her duty is to look deeper into issues rather than simply observe; one must consider the consequences that each event will have on society as a whole. Political instability, the contentious issue of asylum seekers, and racial discrimination all play a part in her analysis as she acutely draws on personal experience to communicate her thoughts. Shakila has exhibited in several solo and group shows and has participated in artists' talks at several platforms including BQ residency and Khayal festival. In 2015 she was also named as Beaconhouse Emerging Artist of the year at the Lahore literary festival. She was nominated from Pakistan for the prestigious 'Sovereign Asian Art Prize' in 2017.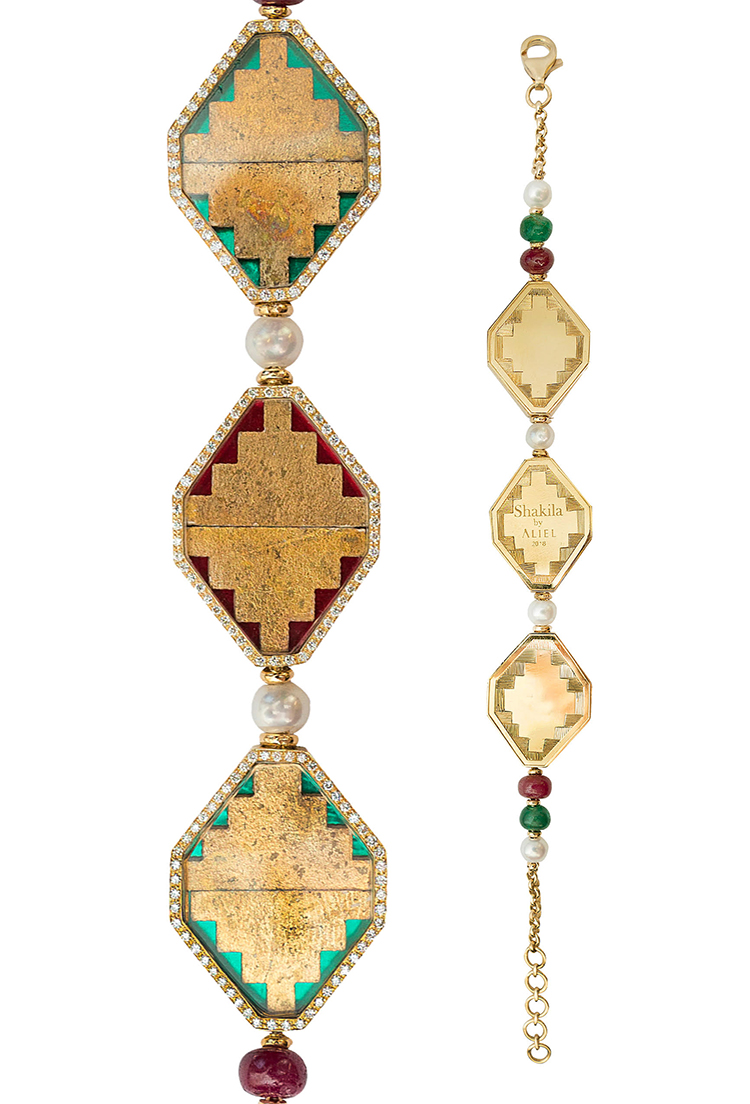 This bracelet Kaptomar is designed with gold leafing on wasli set with Burmese rubies, emeralds, pearls and colored foil set in 18K Yellow Gold with diamond halo
YASIR WAQAS
Yasir Waqas was born in Quetta Pakistan and graduated from the National College of Arts Lahore in 2013. He specialized in miniature painting and is currently based in Lahore. In distant memories of growing up, learning mechanics of airplanes and watching the details of engines were something fondly he did. Being a GPL Pilot and a CAA authorized aircraft mechanic, felt limited and constrained. Something started a contradictory conflict within. What lies between is a huge haze of confusion, clash of ideas and flight from certain circumstances. His work deals with compromises and conflicts, between idea innate and idea implanted, and the damage to the personality and the idea itself. . The battle of opposing a planted in also explains that it is not easy to make something you think best for yourself and act according to your will doesn't necessarily makes it your reality. Sometimes it leaves you claustrophobic and again leaves you with a desire to fly to the unknown.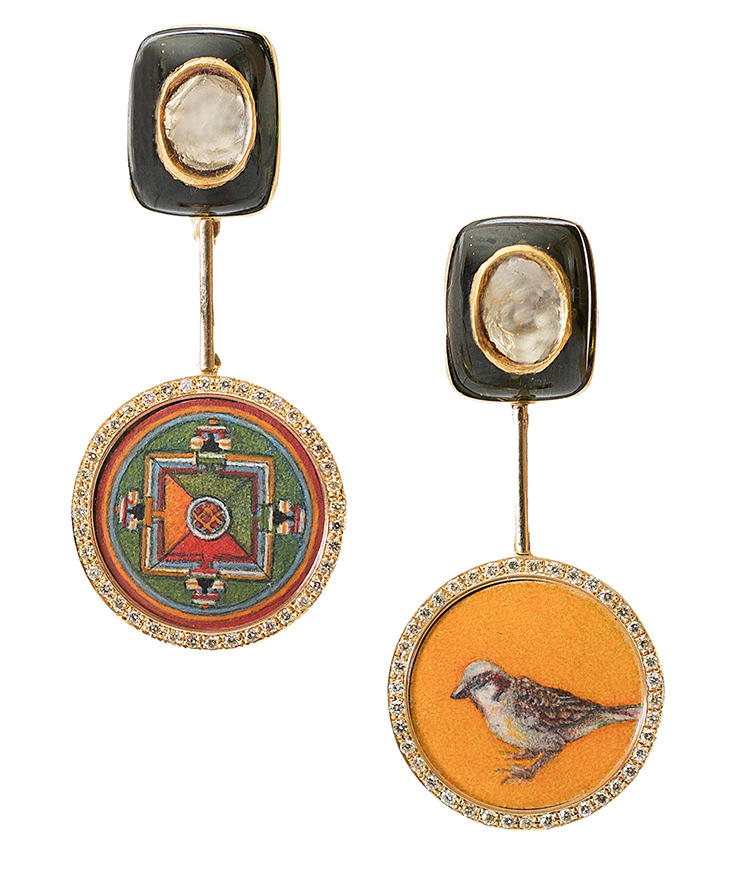 ​These earrings Swing are created with art work (Gouache on wasli paper) coved with rock crystal glass, polki diamonds set on carved green tourmaline ,18K Yellow Gold with yellow diamonds halo.